Algar do Carvão - Furnas do Enxofre PRC10 TER
Altitude (Min / Max):
539m / 628m
&nbsp
How to get there
The trail is located in the interior of the island, between the Algar do Carvão volcanic cavity and the Furnas do Enxofre fumarolic field.
Access Estrada Regional 5-2 via the highway or at the Pico da Bagacina intersection, and continue until you find the detour indicating Algar do Carvão. Approximately 750 metres later, you will find the trail start panel, located in the Algar do Carvão car park.
Recommended gear
Appropriate footwear for walking, waterproof jacket, hat, sunscreen and water.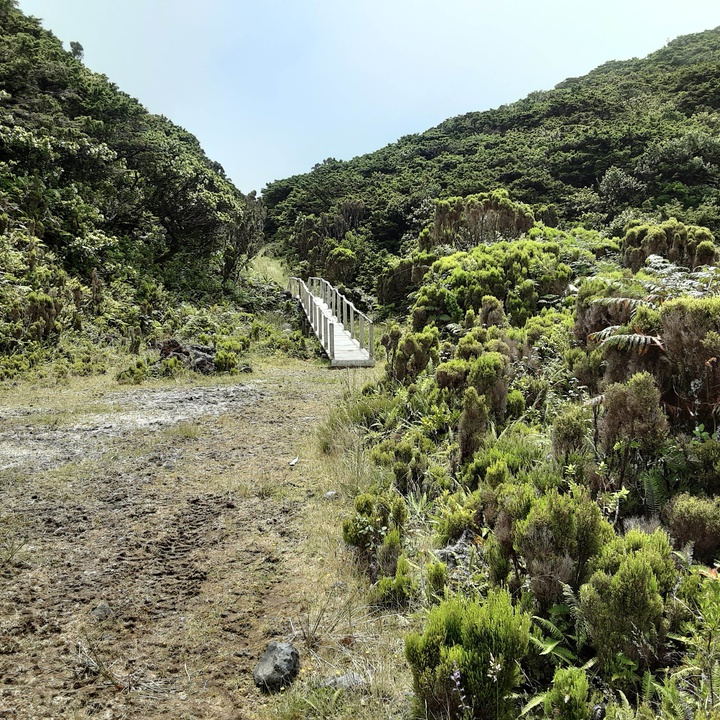 Gallery
The trail is entirely developed in the Protected Area for the Management of Habitats or Species of Planalto Central e Costa Noroeste and allows for a pedestrian connection between two Natural Monuments – the Algar do Carvão and the Furnas do Enxofre.
Start the route at the Algar do Carvão car park, follow the asphalt and turn right onto the gravel road. Take the shortcut on the left, which will lead you to the old forest exploration paths, through hills covered by native forest. Climb up to the old geothermal borehole, which is currently disabled, and continue along the unpaved path, which crosses the plateau along a patch of Laurissilva forest, with panoramic views of Pico da Salsa, Pico Tamujo and Sanguinhal bog.
When you see the Pico Vermelho Geothermal Power Station, turn south, passing through patches of autochthonous flora and meadows, until reaching the asphalt. Here, you have the option of making a detour to the left (345m) to visit the Furnas do Enxofre fumarolic field. Return to the place where you took the detour and follow the pedestrian path visible in the middle of the meadow. Climb until you reach a promontory, which allows you to enjoy panoramic views of Pico do Alpanaque, the Caldeira de Guilherme Moniz and, on days with good visibility, the Serra de Santa Bárbara massif, as well as the islands of São Jorge and Pico in the horizon. From here, descend through the native vegetation, which skirts Pico do Sanguinhal, until reaching the road. Turn left and go straight on to the Algar do Carvão car park.