Furnas do Enxofre Interpretative Circuit
&nbsp
How to get there
The Furnas do Enxofre Interpretative Circuit is located roughly in the centre of the island, north of Angra do Heroísmo city.
Approximately at kilometre 5.5 on the Via Vitorino Nemésio, turn towards "Furna d'Água/Algar do Carvão", and proceed about 7 kilometres from the Regional Road 5-2 (Cabrito Road) until you find the signs of Furnas do Enxofre.
Recommended gear
Appropriate footwear for walking, waterproof jacket, hat, sunscreen and water.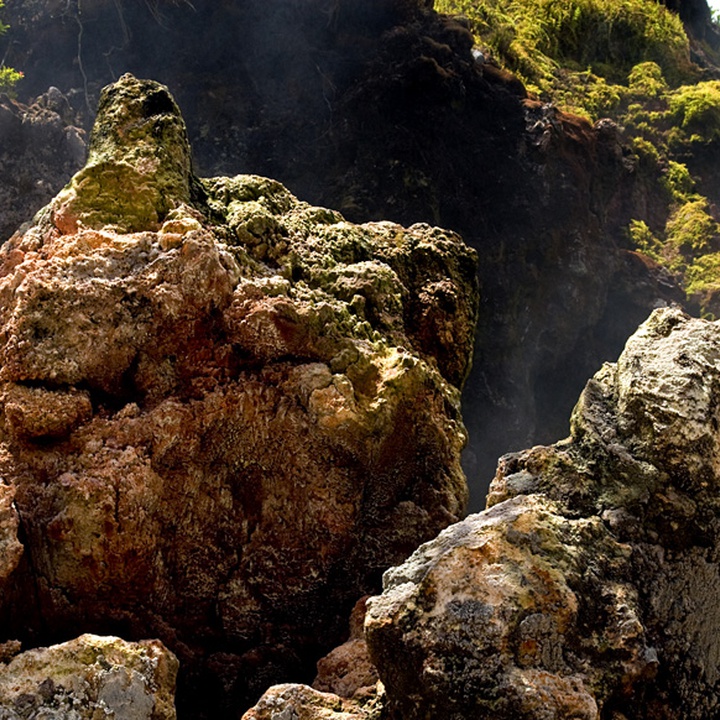 Gallery
The Furnas do Enxofre Interpretative Circuit is an infrastructure that develops around the fumarole field of Furnas do Enxofre, classified as a Natural Monument and a geosite of the Azores UNESCO Global Geopark.
This Circuit is an infrastructure designed to regulate the use of this natural monument, allowing, on one hand, safe access to all who wish to visit it and, on the other, protecting the respective habitat, through the use of rustic materials and integrated into the natural characteristics of limitations on caves trails.
The pedestrian route results in a circuit that passes through the fumaroles areas and the north slope, is adapted to existing paths and has facilitated access. The location has a set of information panels to support the interpretation of existing natural elements.