Fortes de São Sebastião PR5TER
Altitude (Min / Max):
7m / 153m
&nbsp
How to get there
From the centre of São Sebastião parish, follow the signs to "Farol das Contendas" and after arriving at the lighthouse, follow the municipal road 509, keeping it at your right. After about 450 metres, you will find the sign marking the beginning of the trail.
It is situated about 15 kilometres, by road, from the centre of Angra do Heroísmo.
Recommended gear
Appropriate footwear for walking, waterproof jacket, hat, sunscreen and water.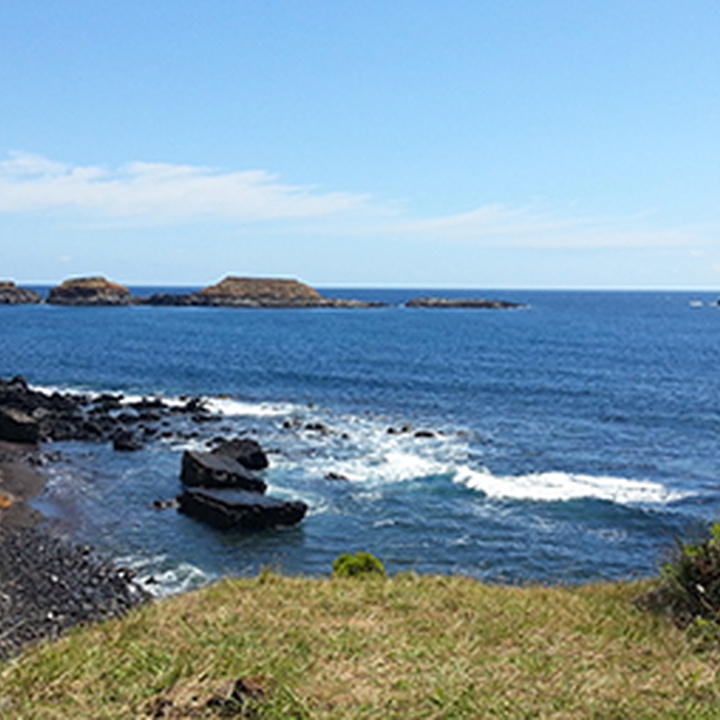 Gallery
This path is partially inserted in the Ponta das Contendas Protected Area for the Management of Habitats or Species, also classified as Special Protection Zone (SPA) within the Natura 2000 network. Beside the natural values present, this trail also allows to observe remains of ancient fortifications of maritime defence of the 16th/17th centuries.
The trail starts at the municipal road 509, about 450 metres from Contendas Lighthouse (direction of Angra do Heroísmo – Praia da Vitória).
Go to the Contendas Lighthouse and Cabras Islets Viewpoint and follow the remains of Greta and Santa Catarina dos Mós Forts (both of 1581). Observe the Mós Bay where, in 1583, the navy of Filipe II of Spain deployed and ended the local resistance to the Spanish domain.
Return to the initial point, turn right and follow through the asphalt road (about 550 metres) until you find a barrier which you should use the existing ladder to transpose.
At the pasture go right forward the ruins of Bom Jesus Fort (1644) where you can see three islets formed by the maritime erosion of an old peninsula and an important colony of Sterna sp. In the adjacent sea-cliffs nests the Calonectris borealis.
Resume the trail, climb to Pico dos Cornos and walk between native vegetation with species such as Erica azorica and Morella faya.
Continue through a pasture in direction to a geodetic point. From this highest point, with a view to Mina Islet, it is possible to see a significant part of the trail.
Go down through the fields until a viewpoint where you can see São Sebastião coastline confining with Costa das Contendas Protected Marine Area for Resource Management.
Follow the signs to the ruins of Pesqueiro do Menino Fort (1581). Further on, the trail arrives at an asphalt road that leads you the Vila main square, where it ends.