Mistérios Negros PRC1TER
Altitude (Min / Max):
545m / 641m
&nbsp
How to get there
The trail is located in the interior of the island, near the Lagoa Negra (lagoon) and Gruta do Natal (cave). Take the Regional Road 3-1 to find the junction with the Caminho Florestal (Forest Road) 24, which you must follow. It is located about 12 kilometres, by road, from the centre of Angra do Heroísmo.
Recommended gear
Appropriate footwear for walking, waterproof jacket, hat, sunscreen and water.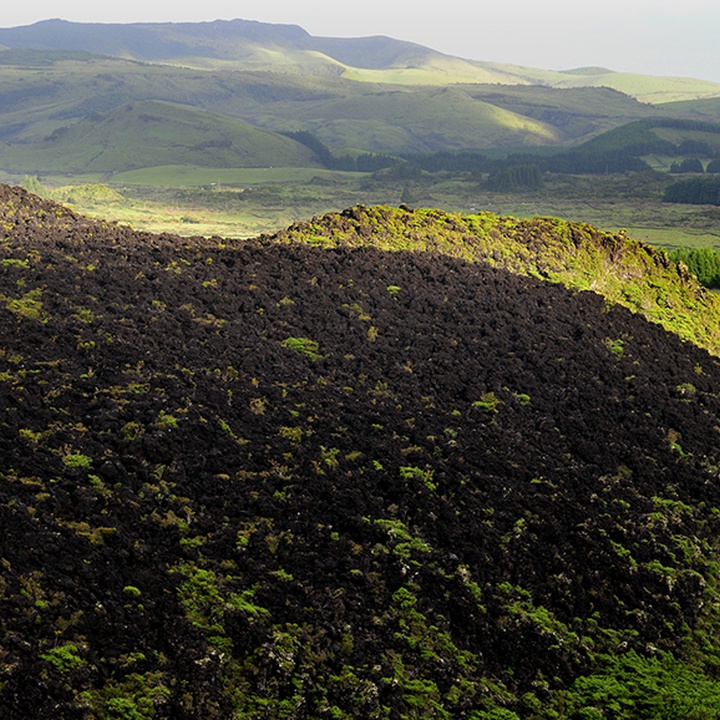 Gallery
Integrated in the Serra de Santa Bárbara e dos Mistérios Negros Nature Reserve, this trail begins and ends at the place where is located the Gruta do Natal (cave), near the Lagoa do Negro (lake).
The trail is also included in the Serra de Santa Bárbara e Pico Alto Special Area of Conservation and the geosite Caldeira de Santa Bárbara e Mistérios Negros from the Azores UNESCO Global Geopark.
Along the way, it is possible to see different endemic vegetation, as well as the trachytic domes formed by accumulations of recent lavas that give the name to this trail – Mistérios Negros.
Begin the trail in a dirt path, flanked by some specimens of Japanese Cedar (Cryptomeria japonica) – introduced species – and enter a pasture, with a small tank, which leads to a more forested area, by specimens of Tree Heath (Erica azorica), Juniper (Juniperus brevifolia), Azores Blueberry (Vaccinium cylindraceum) and the native Myrsine retusa.
Proceed, passing by three small lakes known as Lagoinhas do Vale Fundo. Of the three lakes, only one keeps water all year round, being an important place to some migratory birds that come to this place.
Continue the trail defined by its trachytic domes of black colour and lack of vegetation, resulting from the volcanic eruption in 1761. Further ahead, on the highest point of the trail, it is possible to observe around Pico Gordo, the central massif of the island and Pico do Gaspar.
Go down along a wood of Japanese Cedar that alternates with bordered pastures with these large size trees. Pass by the geodetic pillar of Pico da Cancela until you reach the road, where you should follow to the left.
In this trail, you will find a detour on the right, optional, until Pico Gaspar, a place very rich in endemic vegetation. The trail continues on the forest road until the starting point, where the trail ends and you can visit Gruta do Natal, a lava tunnel with 697 meters.