Mistérios Negros PRC1TER
Altitude (Min / Max):
516m / 649m
&nbsp
How to get there
The trail is located in the interior of the island, near the Lagoa Negra (lagoon) and Gruta do Natal (cave). Take the Regional Road 3-1 to find the junction with the Caminho Florestal (Forest Road) 24, which you must follow. It is located about 12 kilometres, by road, from the centre of Angra do Heroísmo.
Recommended gear
Appropriate footwear for walking, waterproof jacket, hat, sunscreen and water.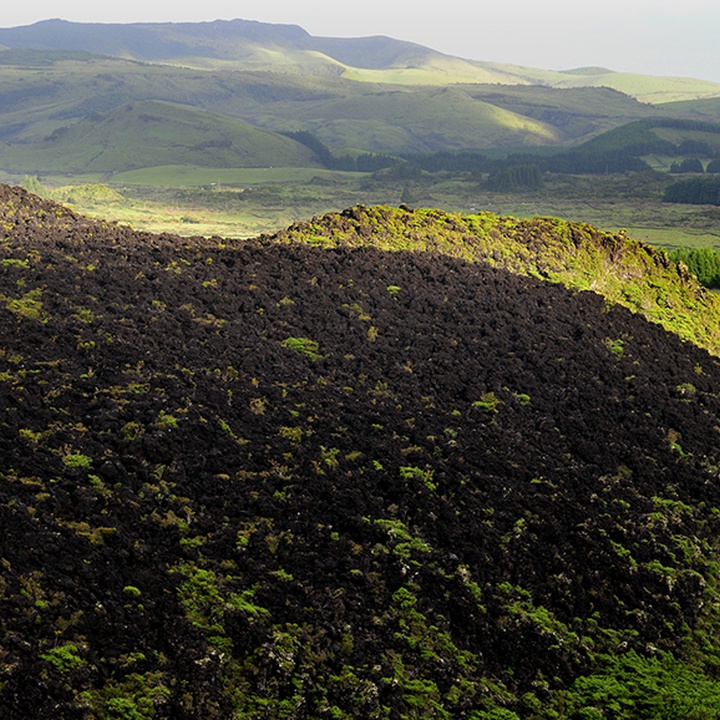 Gallery
Integrated in the Serra de Santa Bárbara e dos Mistérios Negros Nature Reserve, this trail begins and ends at the place where is located the Gruta do Natal (cave), near the Lagoa do Negro (lagoon).
Along the way, it is possible to see different endemic vegetation, as well as the trachytic domes formed by accumulations of recent lavas that give the name to this trail - "Mistérios Negros".
The trail begins and ends by the support house to the access to Gruta do Natal (cave) and Lagoa do Negro (lagoon). Follow a path flanked by some specimens of Cryptomeria japonica – introduced species – and enter a pasture, with a small tank, which leads to a more forested area. Note, by the left, the domes that give the name to this area, "Mistérios Negros", resulting from the historical eruption of 1761.
Enter a footpath, where the species of native flora, such as Juniperus brevifolia, Vaccinium cylindraceum and Calluna vulgaris, will gradually dominate the landscape. Further on, you find a small detour to one of Lagoinhas de Vale Fundo (lagoon). On the bottom of these cones was the deposition of thinner material which allowed the formation of ponds and the development of more dense and strong vegetation as can be seen at this location.
Retaking the trail, it is possible to observe some flora specimens as the Vaccinium cylindraceum and the Ilex azorica and bird specimens, consisting of endemic subspecies of the Azores, such as the Turdus merula azorensis, the Regulus regulus inermis and the Buteo buteo rothschildi.
From this point, the floor becomes more irregular but, further on, follows a more accessible section. Enjoy the scenery, which highlights the domes of the Mistérios Negros, the Pico Gaspar and the endemic woodlands present along this trail.
The route follows the Caminho Florestal (Forest Road) 24 to the place where it started. Once you reach the end of the trail you can also visit the Gruta do Natal (cave).