Serreta PRC3TER
Altitude (Min / Max):
335m / 773m
&nbsp
How to get there
Access to the trail is made by Canada da Fonte (path) from the Regional Road 1-1, in Serreta parish, and starts on a paved agricultural path by the trail sign. It is located about 21 kilometres, by road, from the centre of Angra do Heroísmo.
Recommended gear
Appropriate footwear for walking, waterproof jacket, hat, sunscreen and water.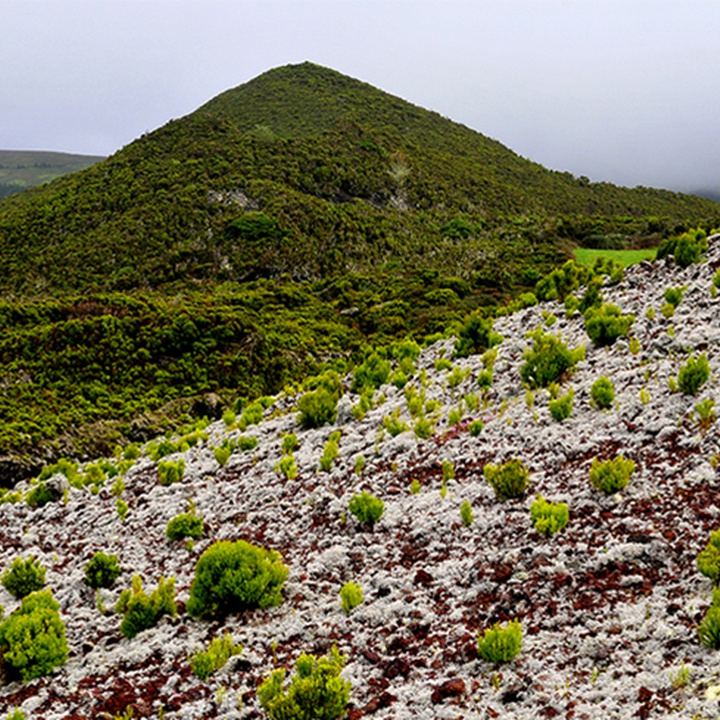 Gallery
This short circular trail passes through the Planalto Central e Costa Noroeste Protected Area for the Management of Habitats or Species and the Serra de Santa Bárbara e dos Mistérios Negros Nature Reserve.
During the trail, it is possible to observe very diverse vegetation, which includes endemic flora specimens. On about half the way of the trail is the Lagoinha, a small lagoon surrounded by a juniper forest. Another highlight is the Ribeira do Além (stream).
Start the trail near the junction of Canada da Fonte, along an ascending dirt track. Following the signs, you will enter a narrower path where you will be able to observe endemic species of vegetation such as Tree Heath (Erica azorica) and Azorean Fire Tree (Morella faya). As you climb, specimens Junipers (Juniperus brevifolia) and the Azorean Laurel (Laurus azorica) become more abundant. The usual avifauna is also present through subspecies endemic to the Azores, the Azores, such as the Azores Blackbird (Turdus merula azorensis), the Goldcrest (Regulus regulus inermis) and the Buzzard (Buteo buteo rothschildi).
When you reach a dirt path, turn right until it ends, entering on a footpath until you find a second path, where you should turn right again. Further on, climb to Pico da Lagoinha (peak) and contemplate this small lagoon and the primitive vegetation surrounding the entire peak. On top of this volcanic cone, you can sight the parishes of Serreta, Raminho and Altares.
Descend and retake the path on the left, and enter a pasture that will lead to a path that flanks the Ribeira do Além (stream). Continue to a small viewpoint where you can appreciate some details of this water line. Continue the descent to enter a Japanese Cedar (Cryptomeria japonica) forest, and further ahead, you will find a path flanked by Hydrangeas (Hydrangea macrophylla), an ornamental introduced species, leading to the end of the trail (starting point).