Baías da Agualva PR2TER
Altitude (Min / Max):
0m / 124m
&nbsp
How to get there
This trail begins in Canada da Alagoa (path in Agualva parish) at the junction with the Regional Road 1-1. Is located about 24 kilometres, by road, from the centre of Angra do Heroísmo.
Recommended gear
Appropriate footwear for walking, waterproof jacket, hat, sunscreen and water.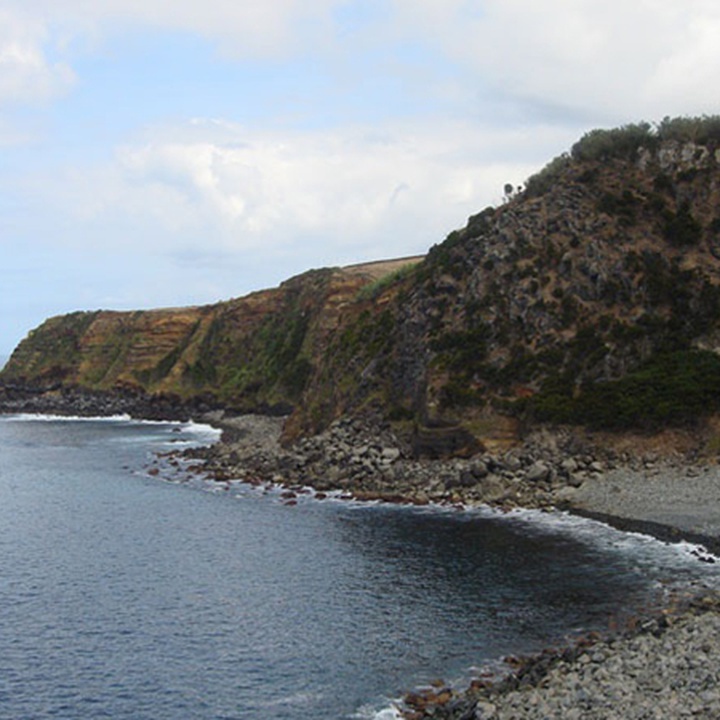 Gallery
Integrated into the Costa das Quatro Ribeiras Protected Area for the Management of Habitats or Species, this trail develops along the northern coast of the island, between Agualva and Quatro Ribeiras, starting in Canada da Alagoa (path) by the Regional Road.
The walk starts in Canada Alagoa (path) near the junction with the Regional Road. In this place, you can appreciate the typical Azorean landscape composed of pastures enclosed by stone walls.
The trail continues through a water line, great to see and hear some of the species of terrestrial birds, namely the subspecies of endemic passerine of the Azores: Fringilla coelebs moreletti and Turdus merula azorensis.
Head towards the Alagoa da Fajãzinha (lagoon), which is one of the best examples of a filling fajã of the Azores. Climb a sea-cliff with peat floor where the dominant plant species is Erica azorica. At the top of the sea-cliff, with a short detour to the left, you can see the rolled stones beach of this fajã. Continuing the trail, it is possible to observe the process of colonization of lava fields by coastal scrublands of Erica azorica.
Arriving at a junction where, before continuing the trail on the left, you can make a small detour to the viewpoint on the right. Here, admire the bays which features extensive areas of sea-cliffs, with basalt prismatic jointing phenomena.
Follow the path until you get into a zone consisting of Macaronesian coastal scrublands where you can see rare examples of low altitude Juniperus brevifolia.
Further on, you will find a small detour to a viewpoint where you can observe some seabirds.
Continue your walk, contemplating the Ponta do Mistério and the Caldeirão, until the Regional Road about 1.5 kilometres from the place of beginning.