Volta à Caldeira - Furna do Enxofre PRC2GRA
Altitude (Min / Max):
144m / 304m
&nbsp
How to get there
Leaving from Praça Fontes Pereira de Melo (square), in Santa Cruz village, head towards the centre of Guadalupe parish for 3 kilometres. At Largo Padre Simões Borges (square), turn left towards Pedras Brancas place by 3.8 kilometres, then follow towards the Caldeira by Canada Longa and you will find the beginning of trail's sign.
Recommended gear
Appropriate footwear for walking, waterproof jacket, hat, sunscreen and water.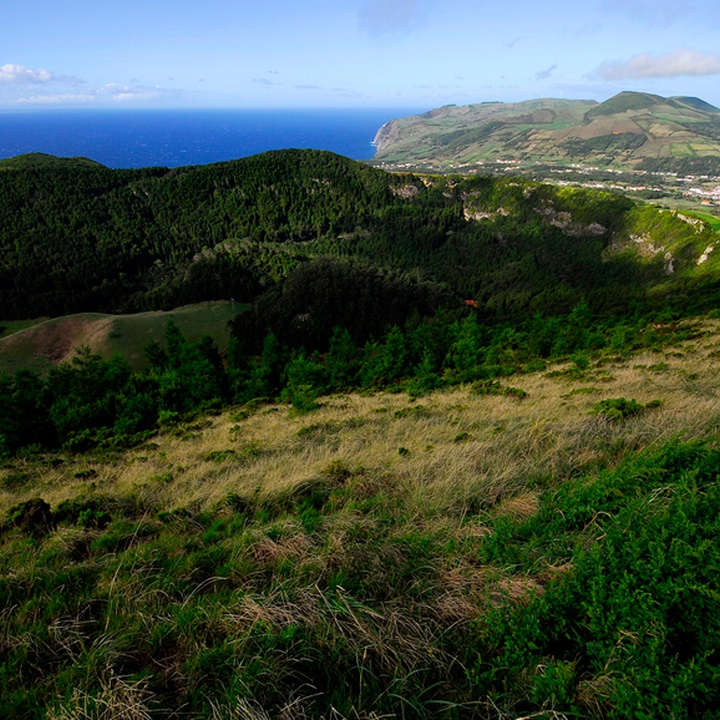 Gallery
The trail begins and ends by the Caminho das Furnas (path), going around the Caldeira da Graciosa Natural Monument.
Along the way you can visit the Furna do Enxofre Visitors Centre, the Furna (cave) and three lava tunnels, namely the caves of Abel, d'Água and Maria Encantada, while enjoying a panoramic view over almost the entire southern coast of Graciosa and the other islands of the central group. This trail is partially inside the Caldeira da Graciosa Natural Monument.
Begin the trail in the area of Canada Longa and follow the road towards Caldeira. At the first fork, choose right, passing by Furna do Abel, a lava tunnel. Continuing, pass by Furna d'Água of smaller dimensions and with an underground water reservoir. Reaching the top of Caldeira, go left, passing by Furna da Maria Encantada, known because of its collapsed lateral walls.
When you reach the top of the Caldeira, turn left, passing through Furna da Maria Encantada, characterized by its collapsed side walls. Continue around the Caldeira and, taking advantage of the high altitude, enjoy the view to its interior and to the rest of the island. On the route around Caldeira, the marks used on the Great Routes prevail.
Arriving again at the fork, choose left, passing again by Furna d'Água and Furna Abel and on the road, follow right, passing through the access tunnel to the interior of the Caldeira. Continue along the road until you reach the Furna do Enxofre access staircase, geosite where there is an Interpretation Centre, which is also the entrance to the Furna. Between 11h and 14h it is possible to observe the Furna from outside because the sunlight reaches its interior.
After the visit to this magnificent place, make the inverse way, passing by the tunnel and finishing the trail at the starting point in the area of Canada Longa.