Volta à Caldeira - Furna do Enxofre PRC2GRA
Altitude (Min / Max):
65m / 303m
&nbsp
How to get there
Leaving from Praça Fontes Pereira de Melo (square), in Santa Cruz village, head towards the centre of Guadalupe parish for 3 kilometres. At Largo Padre Simões Borges (square), turn left towards Pedras Brancas place by 3.8 kilometres, then follow the direction of the Caldeira by Canada Longa and you will find the beginning of trail's sign.
Recommended gear
Appropriate footwear for walking, waterproof jacket, hat, sunscreen and water.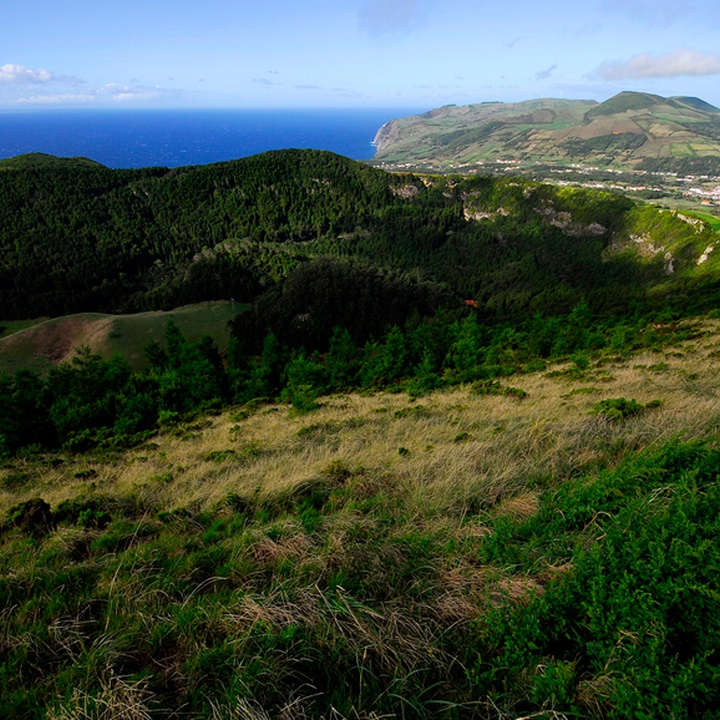 Gallery
The trail begins and ends by the Caminho das Furnas (path). Along the way you can visit the Furna do Enxofre Visitors Centre, the Furna (cave) and three lava tunnels, namely the caves of Abel, d´Água and Maria Encantada, while enjoying a panoramic view over almost the entire southern coast of Graciosa and the other islands of the central group.
Climb up to the access tunnel to Caldeira, covered by Cryptomeria, Acacia melanoxylon, Morella faya and the endemics Laurus azorica and Erica azorica, and continue on the road to Furna do Enxofre Visitors Centre where you can get information about the island, the Caldeira and the Furna (cave). Follow the path of return by the trail and you can visit the caves of Abel, d'Água and Maria Encantada. Following northeast, by the dirt road, you can see in front the Vila da Praia parish, on the left the Senhora da Saúde hill, on the right the Ilhéu da Praia (islet) and, in the background, the Serra das Fontes. Continuing you will arrive at the southern slope. Turning south, on the left is the Carapacho lighthouse and the Ilhéu de Baixo (islet), and in the centre is Carapacho place. You may see at southeast Terceira Island, at south São Jorge Island and at southwest Pico and Faial Islands.
The local birdlife is characterized by endemic passerines subspecies, as the Turdus merula azorensis, the Fringilla coelebs moreletti, the Motacilla cinerea patriceae and the Sturnus vulgaris granti, and stands out other birds such as the Buteo buteo rothschildi and the Columba palumbus azorica.
At the next observation point, you can get a panoramic view over Luz parish. In the centre, there is the Serra Dormida, where it is visible the most recent geological formation of the island, the eruption of Pico Timão, which occurred 3900 years ago. The associated lava flow is covered by the largest forest of the island, which stretches to Rochela (Vila da Praia). Behind this scenery are the Serra Branca in the centre and the Serra das Fontes on the right.