Grand Route 02 - Stage 1: Ponta dos Rosais – Santo Amaro
Altitude (Min / Max):
170m / 426m
&nbsp
How to get there
Leaving Velas village, at the roundabout follow westwards, in the indication Rosais. Drive through Rosais for about 4.70 kilometres, passing by the Matriz Church. Turn right at the junction towards Sete Fontes and follow until you reach Sete Fontes Forest Park. Arriving there, continue westwards, entering a gravel path. Follow this main gravel path for about 5 kilometres, and you will arrive at the Rosais Lighthouse where the trail begins.
Recommended gear
Appropriate footwear for walking, waterproof jacket, hat, sunscreen and water.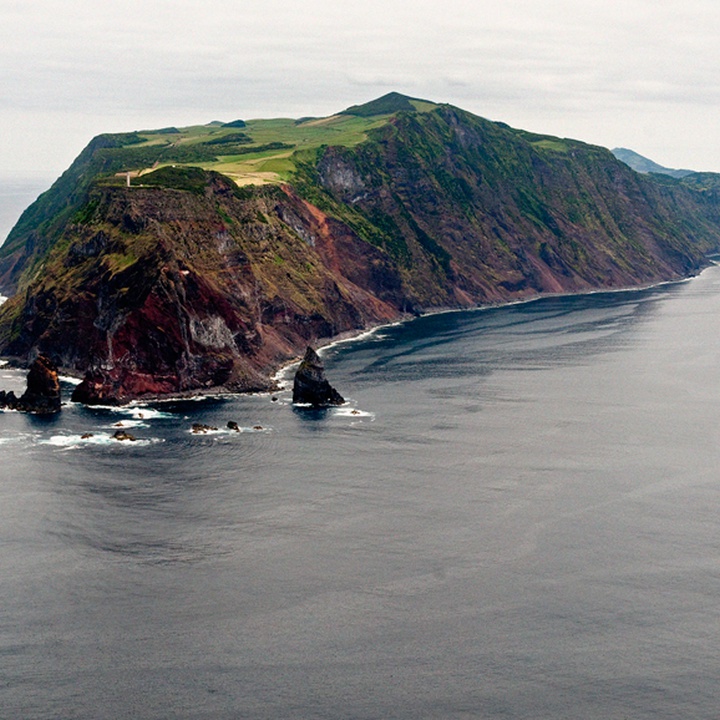 This great route covers approximately half of the island, in a linear trail that connects the Ponta dos Rosais (the western point of the island) to Fajã dos Cubres (on the north coast). It has an extension of 51.8 kilometres.
This is a trail that alternates between the plateau of the interior part of the island, where the volcanic cones that generated the island were born, with the steep and very high slopes that come to an end in small flat areas at the sea level, the famous landscapes of the Fajãs of São Jorge.
This great rout is divided into two stages, of approximately 22 kilometres and 30 kilometres respectively. Stage 2 connects Ponta dos Rosais to the Santo Amaro parish.
Inicie a caminhada junto às ruínas do Farol dos Rosais e o Ilhéu da Ponta dos Rosais. Inseridas no Monumento Natural da Ponta dos Rosais e geossítio homónimo, estas arribas de cerca de 200 metros de altura representam uma importante zona de nidificação de aves marinhas, como o cagarro (Calonectris borealis) e o frulho (Puffinus baroli).
Siga as marcas passando por um desvio para uma antiga e recuperada Vigia da Baleia, de onde é possível avistar as ilhas do Pico e Faial a sul. Continue pela estrada de terra até chegar ao Parque Florestal das Sete Fontes, onde existem viveiros de plantas que depois são transplantadas para outros locais da ilha, mas também, infraestruturas de lazer como lagos, zonas de piquenique e locais de diversão infantil. Nesta fase, pode fazer um desvio, de ida e volta, até aos miradouros do Pico da Velha e o da Fajã de Ferrã Afonso, virados a norte com vista para as ilhas Graciosa e Terceira.
Com a ilha do Pico à sua frente, siga por um caminho descendente, com cautela devido ao piso escorregadio, para a freguesia dos Rosais. Neste local pode aproveitar para visitar o Centro de Exposição Rural (Edifício Sol). O percurso prossegue pela cordilheira central da ilha, em direção à Beira. Aproveite esta localidade para se abastecer no comércio local e prossiga viagem por um caminho de terra de acesso a campos de pastoreio, até chegar a Santo Amaro, local onde termina a etapa. É neste local que se inicia a próxima etapa da Grande Rota que liga Santo Amaro à Faja dos Cubres.