Great Route 01 - Stage 2: Fajã dos Vimes – Fajã dos Cubres
Altitude (Min / Max):
7m / 672m
&nbsp
How to get there
Leaving Calheta village, follow Estrada Regional 2-2 until you reach Calheta Health Centre and turn right to "Topo". Still on the Regional Road, drive about 3 kilometres east until you come to the petrol station. Turn right to Fajã dos Vimes and go down to the crossroads. Follow the main road until Fajã dos Vimes, about 5 kilometres. Arriving at Fajã dos Vimes, park next to the church where the trail begins.
Recommended gear
Appropriate footwear for walking, waterproof jacket, hat, sunscreen and water.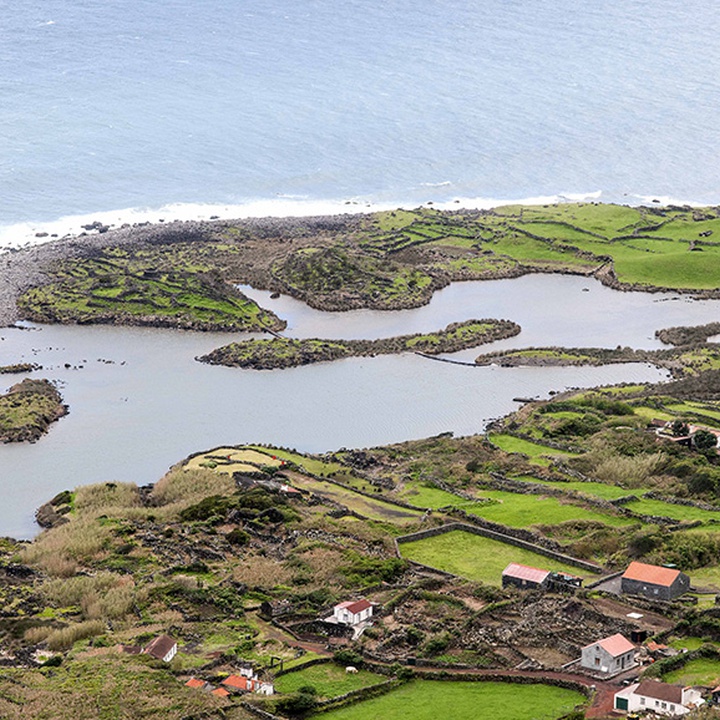 This great route covers approximately half of the island in a linear route that connects the parish of Topo with the Fajã dos Cubres on the north coast. It has 39.2 kilometres and crosses the Fajãs do Norte Protected Landscape Island.
This is a trail that alternates between the plateau of the interior part of the island, where the volcanic cones that generated the island were born, with the steep and very high slopes that come to an end in small flat areas at the sea level, the famous landscapes of the Fajãs of São Jorge.
This great trail is divided into two stages, of approximately 25 kilometres and 15 kilometres, respectively. You should plan your route according to your physical condition, interest and availability.
Stage 2 is 15 kilometres long and connects Fajã dos Vimes (south coast) and Fajã dos Cubres (north coast).
Begin the stage on an ascending dirt road heading to Serra do Topo, passing by the intersection to Fragueira. Turn right until you reach the tarmac road, stay on the right and pass a spring known as Fonte de Água Azeda. A few meters ahead, choose a road on your left-hand side, going up a cliff by a stone staircase, usually shaded by a wood Pittosporum undulatum.
Arriving at a gate, turn left and enter a dirt road flanked by Hydrangeas macrophylla, ending at the regional road, near the Pico da Urze. Proceed until you find the direction to Fajã de Santo Cristo and follow by a descending dirt road towards Caldeira de Cima. Cross the Tia Júlia Bridge, proceeding very carefully (slippery ground) through a detour on your right-hand side heading to Cascata Pequena (waterfall).
Continue until the fajã, passing by a viewpoint, the Sanctuary of Senhor Santo Cristo and by the Environmental Interpretation Centre. At this place, you can visit the Lagoa da Caldeira do Santo Cristo, classified as Fajãs do Norte Protected Landscape Area, a geosite and a place of natural, cultural and landscaping interest.
Continue near the coast, passing by Fajã do Belo, inhabited until the earthquake of 1980. From here, it is already possible to see Fajã dos Cubres ahead, the place where this stage ends, near the Nossa Senhora de Lourdes Church.