Serra do Topo - Caldeira de Santo Cristo - Fajã dos Cubres PR1SJO
Altitude (Min / Max):
45m / 690m
&nbsp
How to get there
Leaving from Calheta village, follow the Regional Road 2-2 to the Calheta Health Centre and turn right to the "Topo". Still on Regional Road proceed about 9 kilometres towards east. After passing the Eolic Park of Pico da Urze, on your left, go about 300 metres and after a tight turn, find the support parking lot of the trail on your right.
Recommended gear
Appropriate footwear for walking, waterproof jacket, hat, sunscreen and water.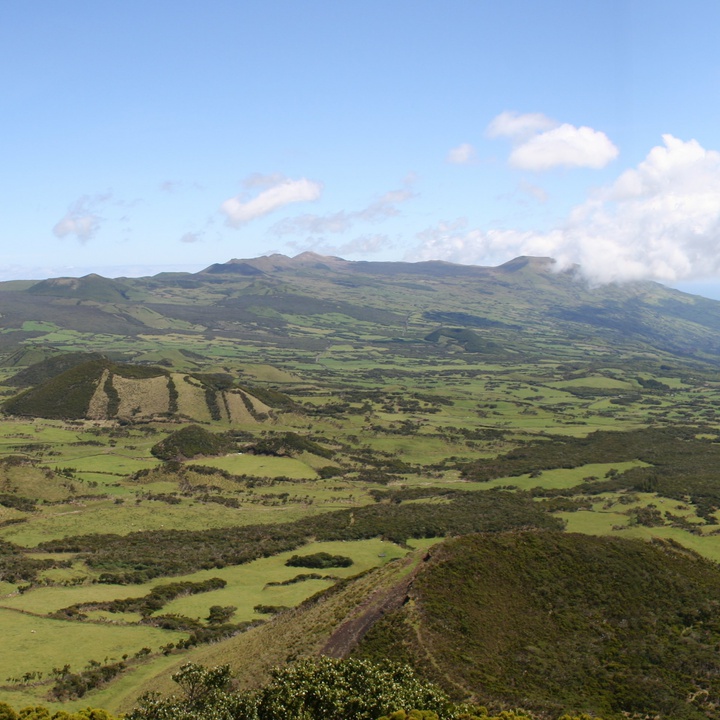 Gallery
The trail begins in north-eastern region of the Eolic Park of Pico da Urze, finishing in Fajã dos Cubres.
This trail is distinguished by passing in places considered unique, highlighting the coastal lagoons of Fajãs of Caldeira de Santo Cristo and of Cubres. Along the way you can be in constant touch with the characteristic biodiversity of this area.
Begin the trail in north-eastern the Eolic Park of Pico da Urze.
At the beginning of the way down, there is an area that allows us to stop and watch the scenery. Along the way you can find many species of birds such as the Fringilla coelebs moreletti, the Regulus regulus inermis, the Turdus merula azorensis and the Buteo buteo rothschildi. For the flora are numerous examples of Blechnum spicant, Hypericum foliosum, Vaccinium cylindraceum, Frangula azorica, Picconia azorica and Sphagnum spp.
The way down goes through caves, places which served as shelter for the workers of the nearest lands.
Upon reaching the Fajã of Caldeira de Santo Cristo, site of great cultural and landscape interest, you can visit the Interpretation Centre of the same name. When touring the fajã you will have the opportunity to observe several species of seabirds such as the Sterna hirundo and Sterna dougallii.
In the lagoon of the Fajã da Caldeira de Santo Cristo you can find the famous bivalve Ruditapes decussatusdecussate, the only species in the archipelago.
Continuing the trail and following the route you will go through the Fajã dos Tijolos and Fajã do Belo, whose name was given because of its owner, Diogo Nunes Belo, an illustrious person of the seventeenth century.
The trail ends in the Fajã dos Cubres site of cultural, heritage and landscape interest. Here you can find old tidal wells, faithful witnesses of past experiences, as well as a coastal lagoon. In this unique ecosystem is possible to observe some species of marine and migratory birds.