Norte Pequeno PRC6SJO
Altitude (Min / Max):
0m / 480m
&nbsp
How to get there
Leaving Calheta village, follow the Regional Road 2-2 to the Calheta Health Centre and turn right to Topo. Still on Regional Road, go about 3 kilometres towards the east until you reach a T-junction, following the "Nortes" sign. Arriving at Norte Pequeno, head to the Parish Council building, where the trail starts.
Recommended gear
Appropriate footwear for walking, waterproof jacket, hat, sunscreen and water.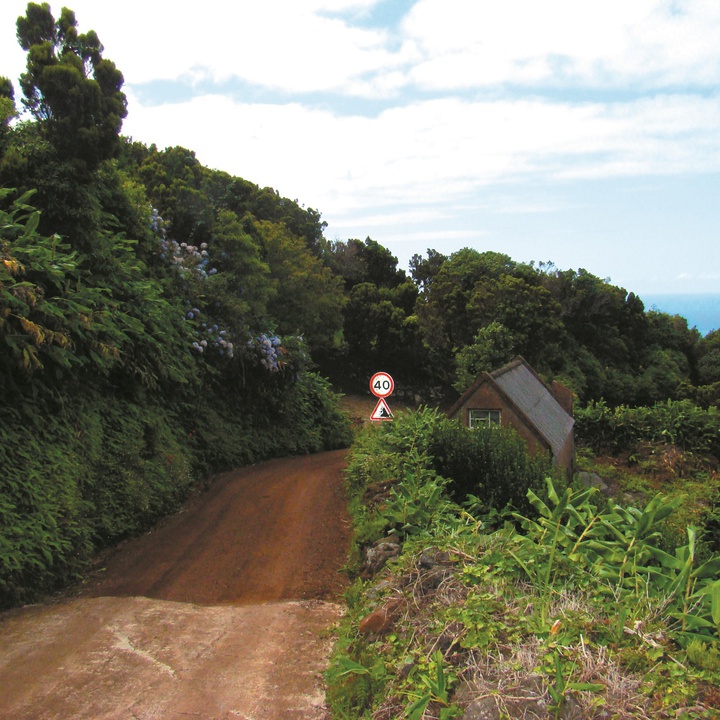 This is a circular trail that starts and ends near the old Norte Pequeno Parish Council, following a secondary road to the Regional Road.
This trail runs through the main fajãs of this parish, such as Mero, Penedia and Pontas, where it is common to observe several waterways. Along the way, you can also see a great diversity of flora and fauna. This trail passes through the Fajãs do Norte Protected Landscape Area.
Start the trail next to the Norte Pequeno Parish Council and follow the parish's interior towards the sea. Following the signs, continue along a dirt road on the left, which leads to farmlands and a water collection point for domestic use.
On the steepest part, the trail winds along the cliff through vegetation composed mainly of Erica azorica, Morella faya, Pittosporum undulatum and Hedychium gardnerianum, the last two being invasive species. You can also see Salix fragilis and Phormium tenax, which provided the raw material for the construction of utensils for the population's daily use, as well as Colocasia esculenta, tubercle that supplied the lack of bread and is today considered a product of traditional gastronomy, known in Portuguese as "inhame". You can also see various threads that were and are used to transport firewood and animal feed.
Near the shore, Fajã do Mero is the first inhabited place that you see. After visiting this place, follow the main road until Fajã da Penedia, where you can enjoy the landscape and see cultivated lands and traditional houses. Arriving at the fajã's centre, there is a detour on your left to the Chapel of Santa Filomena, recently rebuilt. Back to the main road, continue to the east until you reach a fork.
Take the path to the left to access Fajã das Pontas, where you should descend to a small fishing port, surrounded by some houses and a coastal area very inviting for a swim in the Atlantic waters.
Take the opportunity to rest and return through the same path until you find the fork, where you should take a left on the Penedia path that goes up to Norte Pequeno. Follow the signs until you reach the place where you started the trail.