Norte Pequeno PRC6SJO
Altitude (Min / Max):
0m / 480m
&nbsp
How to get there
Leaving from Calheta village, follow the Regional Road 2-2 to the Calheta Health Centre and turn right to the "Topo". Still on Regional Road go about 3 kilometres towards east, until you reach a T-junction, following the "Nortes" sign. Arriving to Norte Pequeno, head to the old Dairy Factory where the trail starts.
Recommended gear
Appropriate footwear for walking, waterproof jacket, hat, sunscreen and water.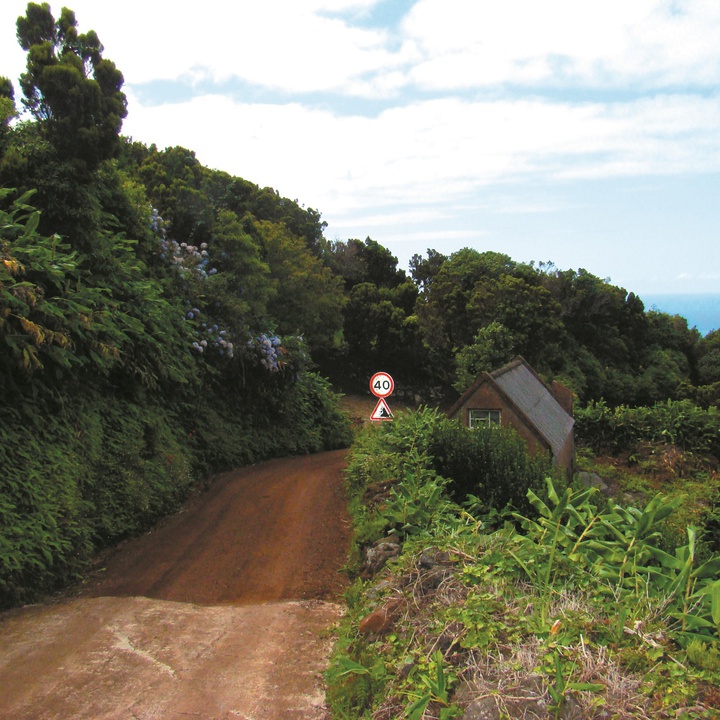 This is a circular trail that starts and ends near the old Norte Pequeno Dairy Factory, following by a secondary road to the Regional Road. Along the way you will see a great diversity of flora and fauna.
This trail runs through the main fajãs of this parish, such as Mero, Penedia and Pontas, where it is common to see several waterways.
Start the trail next to the parish´s old Dairy Factory. Along the way, you can see a diversity of flora, such as the Bellis azorica, the Cryptomeria japonica, the Vaccinium cylindraceum, the Azorina vidalii and the Ilex Azorica.
Finding the viewpoint you may sight some of the fajãs of the north coast, as well as the neighbouring islands Graciosa and Terceira. Along the way to Fajã do Mero is common to see many waterways, which provide the development of taro cultivation, tubercle that supplied the lack of bread and is now considered a product of traditional gastronomy. You can also observe several wires that were and are used for firewood and food transport for animals.
Following the trail you will reach the Fajã da Penedia where you can wander and admire the landscape, cultures, traditional houses and places of heritage interest, such as the fountain and the Chapel of Santa Filomena.
Leaving the Fajã da Penedia you will go up the hill and find a junction. If you follow to the right you will reach the population centre of the parish. If you choose the path on your left you will make a detour to explore the Fajã das Pontas, and must return to the junction to complete the remaining trail.