Ponta da Ilha PR03PIC
Altitude (Min / Max):
3m / 38m
&nbsp
How to get there
Head towards Piedade parish, Lajes do Pico county, following the road in front of Nossa Senhora da Piedade Church, towards the Calhau.
Recommended gear
Appropriate footwear for walking, waterproof jacket, hat, sunscreen and water.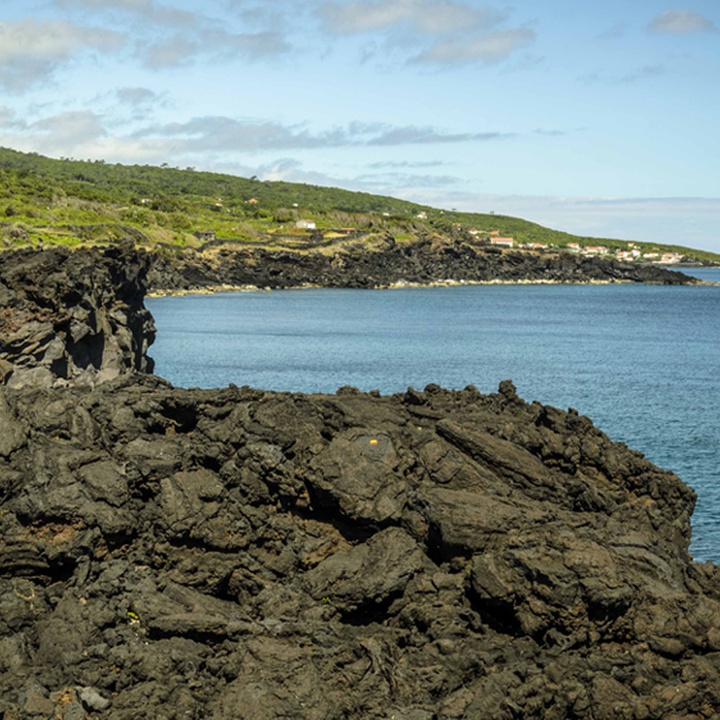 Gallery
The trail begins in Porto do Calhau (port), in Piedade parish, and ends at the Lighthouse, located in Manhenha.
It is made mostly through old paths along the coast, which were used by fishermen and runs through the Cultura da Vinha Protected Landscape Area.
On a section of this route, there is a nesting area for the bird species Sterna hirundo and Sterna dougallii, so between May and July, should be made the alternative route marked on site.
Seguindo pelo caminho "Por Cima da Rocha", pode observar a Ermida de Nossa Senhora de Cima da Rocha, construída em 1854, bem como algumas adegas típicas e terrenos de vinhas e hortas com culturas tradicionais.
Passando o lugar do Cais do Galego e continuando sobre a falésia, percorra alguns caminhos empedrados, onde em tempos passavam, frequentemente, carros de bois, até entrar numa importante área da Rede Natura 2000, local de nidificação da espécie Calonectris borealis (cagarro). Destacam-se a presença de espécies de flora como Euphorbia azorica (erva-leiteira), Spergularia azorica, Juniperus brevifolia (cedro-do-mato) e Erica azorica (urze).
No meio dos campos de lava, surge uma elevação junto ao mar, o Castelete, um pequeno vulcão que ficou rodeado de lava proveniente de erupções mais recentes. A sul do trilho, observe inúmeros currais de vinha, a maioria abandonados, ocupados agora por vegetação natural. Este percurso corresponde a uma alternativa ao troço junto à orla costeira, que deve ser utilizado durante o período de nidificação de uma colónia de Sterna hirundo e Sterna dougallii (garajaus), compreendido entre os meses de maio a julho.
Ao terminar o percurso, e antes de chegar à Baía da Manhenha, avistará o Farol da Ponta da Ilha, e na sua proximidade, um dos mais ricos habitats costeiros no que respeita à diversidade de espécies de flora endémica, a sua maioria com estatuto de proteção, destacando-se as espécies Lotus azoricus e Myosotis maritima (não-me-esqueças).