Ponta da Ilha PR3PIC
Altitude (Min / Max):
3m / 38m
&nbsp
How to get there
Head towards Piedade parish, Lajes do Pico county, following the road in front of Nossa Senhora da Piedade Church, towards the Calhau.
Recommended gear
Appropriate footwear for walking, waterproof jacket, hat, sunscreen and water.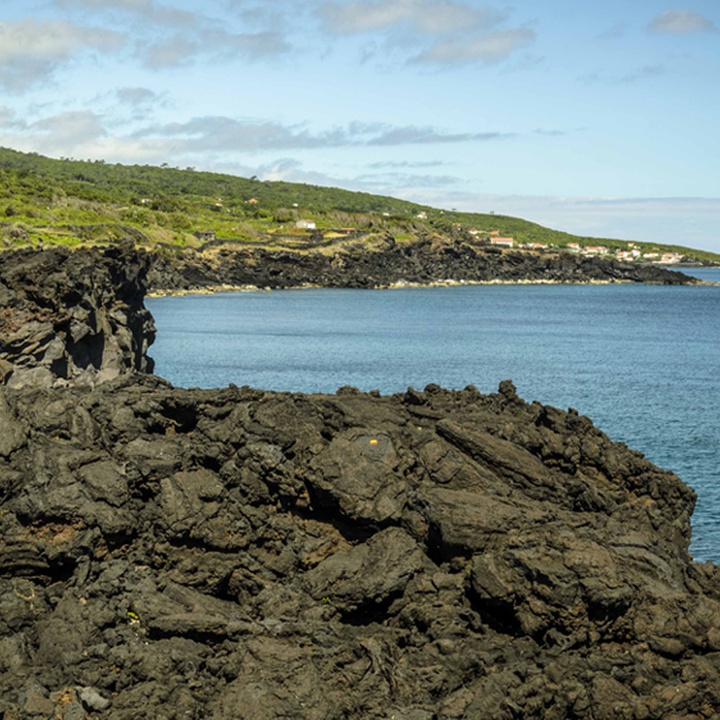 Gallery
The trail begins in Porto do Calhau (port), in Piedade parish. It is made mostly in old paths along the coast, which were used by fishermen.
Runs through the Vineyard Culture Protected Landscape Area, ending at the Lighthouse, located in the place of Manhenha.
On a section of this route, there is a nesting area for the birds Sterna hirundo and Sterna dougallii, so between May and July, should be made the alternative route which is marked on site.
Following the road "Por Cima da Rocha", you can see the chapel of Nossa Senhora de Cima da Rocha, built in 1854, as well as some typical wineries. You can also see vineyards and orchards with traditional crop land.
After passing by the place of Cais do Galego (pier) and continuing on the sea-cliff, go through some cobblestone paths, once often passed by oxcarts, to enter an important area of the ​​Natura 2000 network, a nesting site of the species Calonectris borealis.
We highlight the presence of species of flora such as Euphorbia azorica, Spergularia azorica, Juniperus brevifolia and Erica azorica.
In the middle of the lava fields, there is an elevation by the sea, the Castelete, a small volcano that was surrounded by lava from the latest eruptions. By the south of the trail, observe numerous vineyard plots, most abandoned, now occupied by natural vegetation. This pathway is an alternative to the section along the coastline, which must be used during the nesting period of a colony of Sterna hirundo and Sterna dougallii, between the months of May and July.
When you finish the trail, and before reaching the Baía da Manhenha (bay), you will sight the lighthouse of Ponta da Ilha, and in the proximity, one of the richest coastal habitats regarding the diversity of species of endemic flora, mostly with protection status, highlighting the Lotus azoricus and the Myosotis maritima.