Lagoa do Capitão PR13PIC
Altitude (Min / Max):
28m / 792m
&nbsp
How to get there
Head towards the centre of the island by the Longitudinal Road. Near the kilometre 21, follow the signs to Lagoa do Capitão, where the trail begins.
Recommended gear
Appropriate footwear for walking, waterproof jacket, hat, sunscreen and water.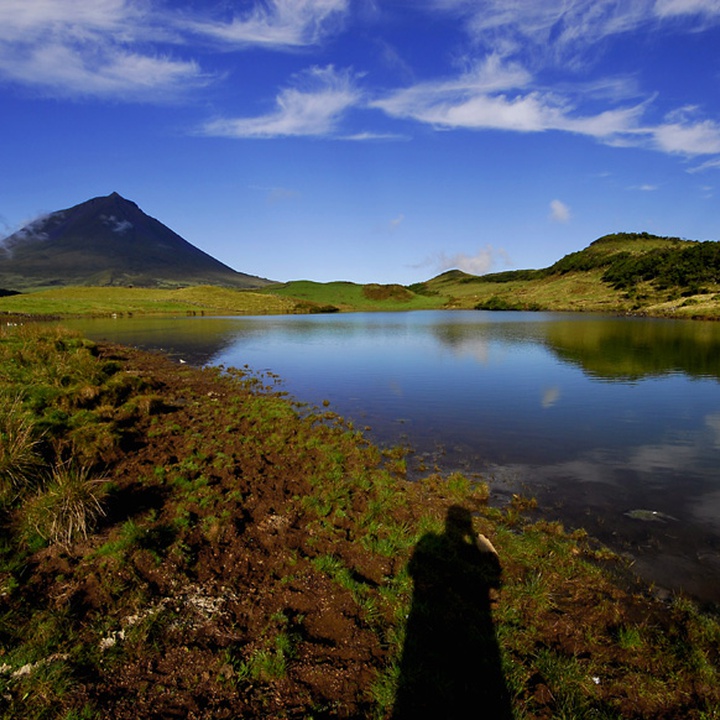 Gallery
The trail starts at Planalto Central (central plateau), near Lagoa do Capitão (lagoon), and ends near the São Pedro de Alcântara Convent.
In this trail, which goes through part of the Zona Central Protected Landscape Area, it is visible, by the north of the lagoon, the fissure scarp of Lagoa do Capitão, habitat of several endemic flora species, and the view over the São Roque do Pico village, with the island of São Jorge in the background, and on the opposite side, you can admire the Pico Mountain.
During this route, you will find the Fonte (fountain), a 19th-century structure, which water comes from the top of the hill and flows directly by a branched system of gutters and is then conducted to this reservoir.
In the end, you can see the São Pedro de Alcântara Convent, construction of the 18th century, recently restored and transformed into a Youth Hostel.
Along this trail, it is possible to observe various habitat of endemic flora species and some bird species.
Start the route on the asphalt road that leads to Lagoa do Capitão (lagoon). After visiting the lagoon, turn back and follow the dirt road on the right. This path is flanked by several endemic species, particularly the large Juniperus brevifolia.
At kilometre 3, you can partially go round the Cabeço do Piquinho to have a view over the northern coast of the island.
Go back and continue down the gravel path for 400 metres, and turn right into the pasture. Following the markings, you will enter a shortcut among endemic vegetation.
A little ahead, start descending the slope on the shortcut that becomes cobbled and with a greater slope. As the altitude decreases, the vegetation evolves into incense woodland.
When you leave the vegetation, you can take a detour on the right to the picnic area and an old water tank.
Then, continue the descent towards Cais do Pico, which alternates between asphalt and dirt paths until you reach the São Pedro de Alcântara Convent, the endpoint of the trail.