Lagoa do Capitão PR13PIC
Altitude (Min / Max):
20m / 770m
&nbsp
How to get there
Head towards the centre of the island by the Longitudinal Road. Near the kilometre 21, follow the signs to Lagoa do Capitão, where the trail begins.
Recommended gear
Appropriate footwear for walking, waterproof jacket, hat, sunscreen and water.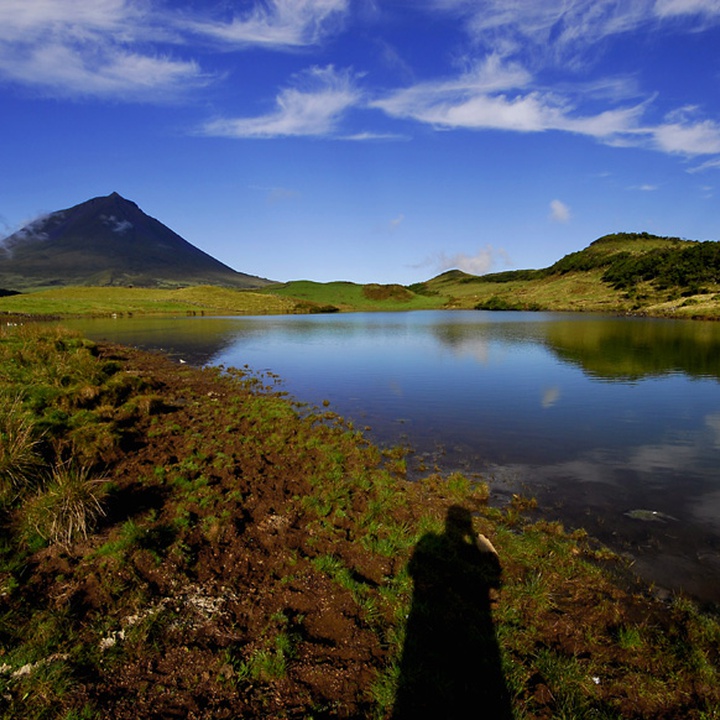 Gallery
The trail starts at Planalto Central (central plateau), near Lagoa do Capitão (lagoon), and ends near the São Pedro de Alcântara Convent.
In this trail, it is visible, by the north of the lagoon, the fissure scarp of Lagoa do Capitão, habitat of several endemic flora species, and the view over the São Roque do Pico village, with São Jorge Island in the background, and on the opposite side, you can admire the Pico Mountain.
During this route, you will find the Fonte (fountain), a 19th-century structure, which water comes from the top of the hill and flows directly by a branched system of gutters and is then conducted to this reservoir.
In the end, you can see the São Pedro de Alcântara Convent, a construction of the 18th century, recently restored and transformed into a Youth Hostel.
Along this trail, it is possible to observe various habitats of endemic flora species and some bird species.
Between the several endemic flora species, many of them with protected status, highlight the Platanthera micrantha, the Bellis azorica and the Sanicula azorica.
Besides the magnificent landscapes, you can also hear the singing birds or even watch the Serinus canaria, the Turdus merula azorensis, the Fringilla coelebs moreletti, the Regulus regulus inermis, the Sylvia atricapilla gularis and the Motacilla cinerea patriciae.