Caminho dos Burros - Vertente Norte PR2PIC
Altitude (Min / Max):
3m / 830m
&nbsp
How to get there
Follow the Cross Road and find the intersection of the Caminho das Lagoas. Follow it and find the respective signage at about 2.4 kilometres.
Recommended gear
Appropriate footwear for walking, waterproof jacket, hat, sunscreen and water.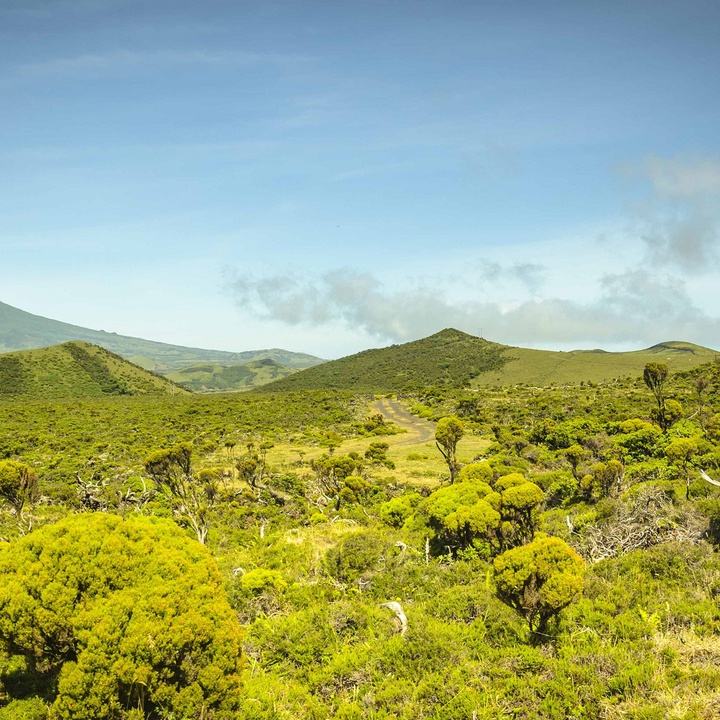 Gallery
This linear trail develops on an ancient communication route that served as a link between the population of the north coast and south coast of the island.
Along this trail, which begins in the Planalto Central (central plateau) area, at about 830 metres of altitude, goes through the Mistério da Prainha Nature Reserve, and ends in the Baía das Canas (bay), it is possible to observe habitats and species of rare and endemic flora and fauna with Community Interest. It is a landscape strongly marked by lava flows emitted in the historic eruption of 1562-64, the longest historical eruption of the Azores.
The trail begins near the Caminho das Lagoas, in the Planalto Central, and, during the walk, there are several geological formations such as ropy lavas, driblet lavas, small lava tubes and volcanic cones that originated the Mistério da Prainha between 1562 and 15664.
There is a wide variety of endemic flora species, many of them with protected status, such as Euphorbia stygiana subsp. stygiana, Juniperus brevifolia, Arceuthobium azoricum, Vaccinium cylindraceum, Daboecia azorica, Leontodon filii and Platanthera micrantha.
Crossing the Prainha Forest Park, you can enjoy a view over a large lava platform, the Ponta do Mistério, currently being a nesting place of the species Larus michahellis atlantis. From the Park's viewpoint, watch the Baía das Canas (bay) and almost all the northern slope of the island. In this place, you can take a break to rest or enjoy a snack.
The trail ends in the Baía das Canas, where there is a beach of pebble and several traditional wineries and it is possible to have a panoramic view from the entire coastline to the tip of the island.