Sant'Ana - Lajido PR10PIC
Altitude (Min / Max):
3m / 180m
&nbsp
How to get there
Head towards the place of Sant'Ana, Santo António parish, in São Roque county, and you will find the signage of the walking trail.
Recommended gear
Appropriate footwear for walking, waterproof jacket, hat, sunscreen and water.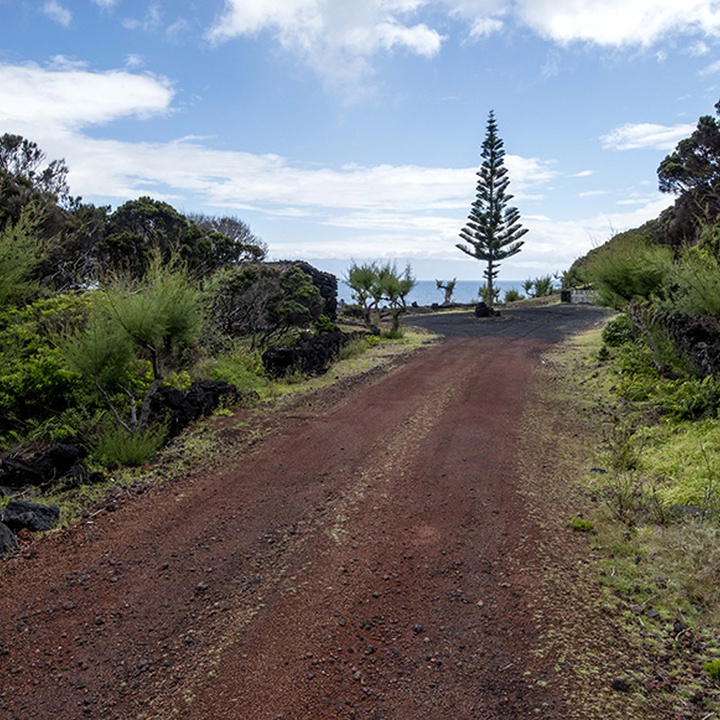 Gallery
This route starts at the regional road, on Sant'Ana place, in Santo António parish, and ends near the Landscape of the Pico Island Vineyard Culture Interpretation Centre, in Lajido de Santa Luzia.
It is a path that crosses a rural location, near the coast and in an area classified by UNESCO as World Heritage, running through the coastal centres of Sant'Ana, Cabrito, Arcos and Lajido, characterized by a landscape of geologic formations and cultural elements of vineyards and religious buildings.
Antes de dar início ao trilho, pode visitar a Vigia da Baleia, percorrendo a canada de acesso, à esquerda. Esta foi construída já no século XX e era utilizada para a observação do mar em busca dos grandes cetáceos. Aqui é perfeitamente visível a Arriba Fóssil do Gasparal, podendo ver a antiga linha de costa que existia antes de ser galgada por lavas provenientes de uma erupção mais recente, criando assim uma nova plataforma rochosa junto ao mar.
Depois, inicie o percurso no atalho entre duas casas, para montante. Nesta zona costeira, que se trata de um importante local de nidificação da espécie Calonectris borealis (cagarro), pode observar algumas adegas típicas e a Ermida de São Mateus (século XVII/XVIII).
Dirigindo-se mais para oeste predominam os campos de lava, onde poderá observar diversas formações geológicas, como lava encordoada e tumuli. Esta unidade paisagística é também marcada por uma extensa rede de muros de pedra que formam currais destinados à cultura da vinha (retangulares e quadrangulares) e da figueira (semicirculares), dando a ideia de estar perante um deserto negro, pontuado por pequenas edificações construídas junto à costa, nascidas da necessidade de produção, armazenamento e escoamento do vinho e da aguardente, atualmente, muitas delas transformadas em casas de veraneio.
O percurso termina junto ao Centro de Interpretação da Paisagem da Cultura da Vinha da Ilha do Pico, no Lajido de Santa Luzia.