Santana - Lajido PR10PIC
Altitude (Min / Max):
3m / 180m
&nbsp
How to get there
Head towards the place of Santana, Santo António parish, in São Roque county, and you will find the signage of the walking trail.
Recommended gear
Appropriate footwear for walking, waterproof jacket, hat, sunscreen and water.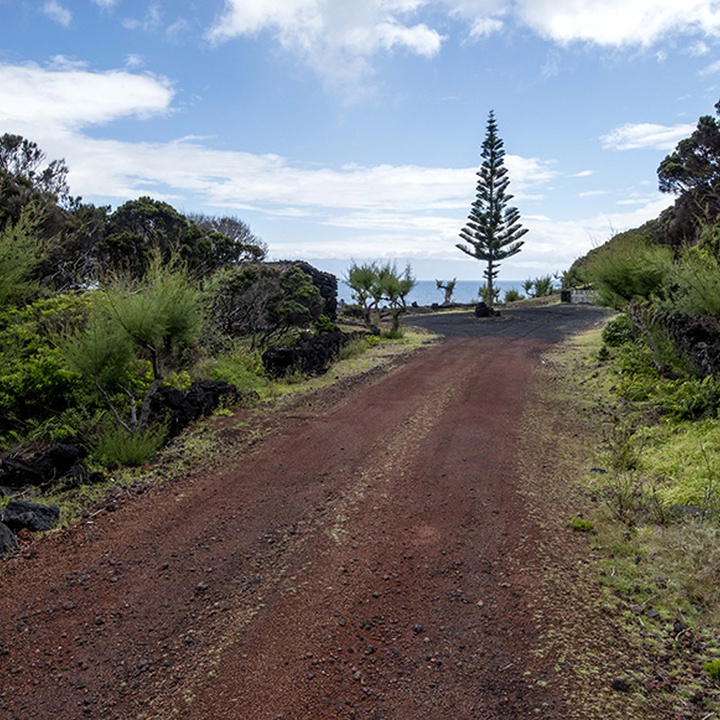 Gallery
This route starts at the regional road, on Santana place, in Santo António parish, and ends near the Landscape of the Pico Island Vineyard Culture Interpretation Centre, in Lajido de Santa Luzia.
It is a path that crosses a rural location, near the coast and in an area classified by UNESCO as World Heritage, running through the coastal settlements of Santana, Cabrito, Arcos and Lajido, characterized by a landscape of geologic formations and cultural elements of vineyards and religious buildings. It is also integrated into the Cultura da Vinha – Zona Norte Protected Landscape Area.
In this coastal area, there are several geological formations such as ropy lava and tumuli. This landscape unit is also marked by an extensive stone walls system that forms plots for the vineyard (rectangular and quadrangular) and fig trees (semi-circular) cultures. Thus, it gives the idea of being in front of a black desert, punctuated by small buildings built along the coast, born of the need for production, storage and outflow of wine and brandies. Currently, many of them turned into summer houses.

Before starting the trail, you can visit the Vigia da Baleia (whale lookout) by walking along the access lane on the left. It was built in the 20th century and used for observing the sea in search of the great cetaceans. Here, the Arriba Fóssil do Gasparal (fossil sea-cliff) is perfectly visible, as well as the old coastline that existed before it was covered by lavas from a more recent eruption, creating a new rocky platform by the sea.
After, begin this trail on a route between two houses that lies upstream. After about 700 metres, turn right to an asphalt road and, soon after, start the descent towards the Gasparal Bay amid orchards and vineyards.
When you arrive at the bay, pass the tidal well and walk to the right of the houses by the sea towards Ponta Negra. This path evolves from a footpath between Pittosporum undulatum and Erica azorica and turns into a shortcut over basaltic slabs.
After passing the houses of Cabrito, turn right and head to the Ermida de São Mateus [St. Matthew's Chapel]. Further ahead, turn right and continue towards Lajido through the village of Arcos.
The trail ends near the Landscape of the Pico Island Vineyard Culture Interpretation Centre, in Lajido de Santa Luzia.