Caminho das Lagoas PR19PIC
Altitude (Min / Max):
400m / 960m
&nbsp
How to get there
Coming from Madalena by Longitudinal Road, turn right towards Lajes do Pico at the junction with the Cross Road, after about 700 metres, you will find another junction on the left, which is the beginning of the trail.
Recommended gear
Appropriate footwear for walking, waterproof jacket, hat, sunscreen and water.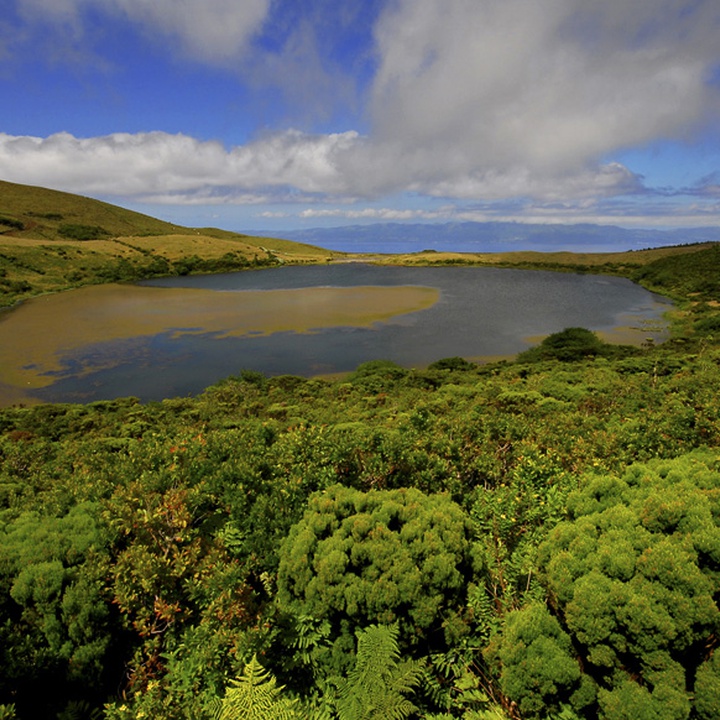 Gallery
The Lagoas walking trail is a journey through the island in its purest state. The route begins at the Cross Road, next to a Forest Service's house, and ends in Ribeirinha parish.
Along the trail that goes through an extensive alignment of small volcanoes, you have the opportunity to discover the lagoons of Caiado, Seca, do Peixinho, do Paúl, and more. The trail also passes in altitude pastures zones.
In this area, it is possible to find active raised bogs and blanket bogs (Sphagnum spp., Eleocharis multicaulis and Juncus spp.), Ilex azorica and Juniperus brevifolia. In terms of fauna, you can find the bird species Regulus regulus inermis, Turdus merula azorensis, Scolopax rusticola, among others.
The trail is located in the Zona Central Protected Landscape Area and in the Planalto da Achada (plateau) priority geosite of the Azores UNESCO Global Geopark, and it goes through the Lagoa do Caiado Protected Area for the Management of Habitats or Species and the Caveiro Nature Reserve.