Cultura da Vinha - Zona Oeste
Protected Landscape Area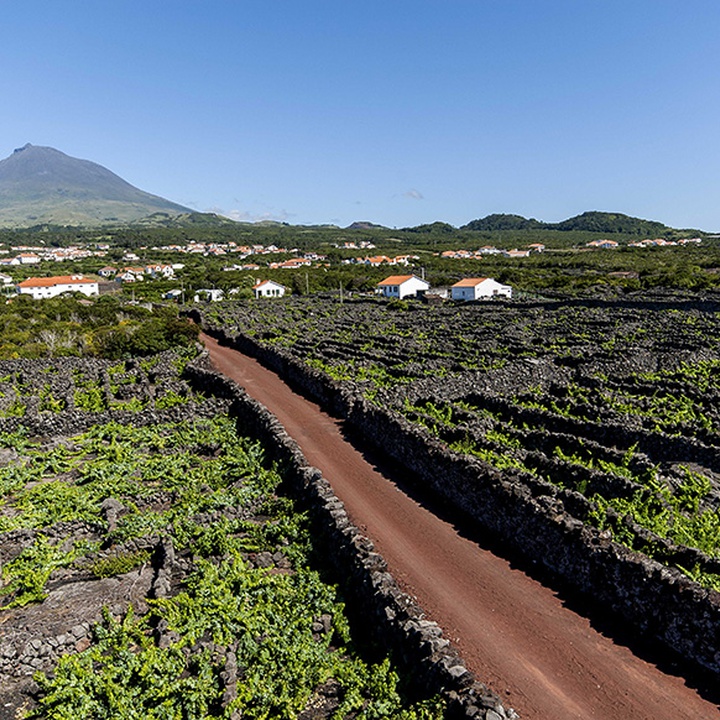 Located on the west coast of Pico, this protected area occupies about 1009 hectares and constitutes the most emblematic area of the Vineyard Culture Landscape.
This area comprises a large active wine-growing area where the reticulated walls are in a perfect state of conservation, and the Verdelho Wine is produced.
Here exist several elements related to the vineyard and fig culture: stone plots (a reticulated structure of basaltic stone walls), wineries, distilleries, tidal wells, "rilheiras" (marks carved on the stone by the ox carts), "rola-pipas" (ramps carved on the rock, near the sea, which facilitated the transport of wine barrels to boats), small harbours and "descansadouros" (structures where the grape-harvesters could place the baskets filled with grapes that they carried on their head, enabling them to rest, and replace the baskets onto their head afterwards, without any help).

In this area, stands out the Lajido da Criação Velha, an urban agglomerate classified as Landscape of the Pico Island Vineyard Culture – UNESCO World Heritage, known as the "heart of the Landscape".
This "lajido", so known due to the flattened and smooth morphology of the lava, is a field of basaltic lava flows of pahoehoe type. These rocks belong to the geological formation of Lajido – Gruta das Torres, with 500 to 1000 years. In this place, mainly in the coastal zone, it is possible to observe structures and microreliefs typical of effusive volcanism such as ropy lava, pahoehoe toes (convex lava lobes), tumuli and pressure ridges (arching of the lava flows' top) and tree lava moulds.
Regarding flora, stands out the presence of Spergularia azorica, Festuca petraea and Azorina vidalii.
In terms of fauna, stand out the species Columba palumbus azorica, Turdus merula azorensis, Calonectris borealis and Nyctalus azoreum.
In this area, it is possible to cross the Vinhas da Criação Velha (PR05PIC) walking trail, considered a trail unique in the world, and to visit the Frades Mill, a replica of a windmill.
This protected area borders, at its outer limit, the Canal Faial Pico/Sector Pico Protected Area of Resources Management. Lajido da Criação Velha also integrates a geosite of the Azores UNESCO Global Geopark.

Classifications: