Fajã de Lopo Vaz PRC04FLO
Altitude (Min / Max):
16m / 208m
&nbsp
How to get there
From the Lajes das Flores City Hall, by the Regional Road 1-2, go on until the sign indicating the detour to Fajã de Lopo Vaz, between kilometres 18 and 19. After entering the detour, proceed until the viewpoint at the end of the dead-end road, where one can find the beginning of the trail sign.
Recommended gear
Appropriate footwear for walking, waterproof jacket, hat, sunscreen and water.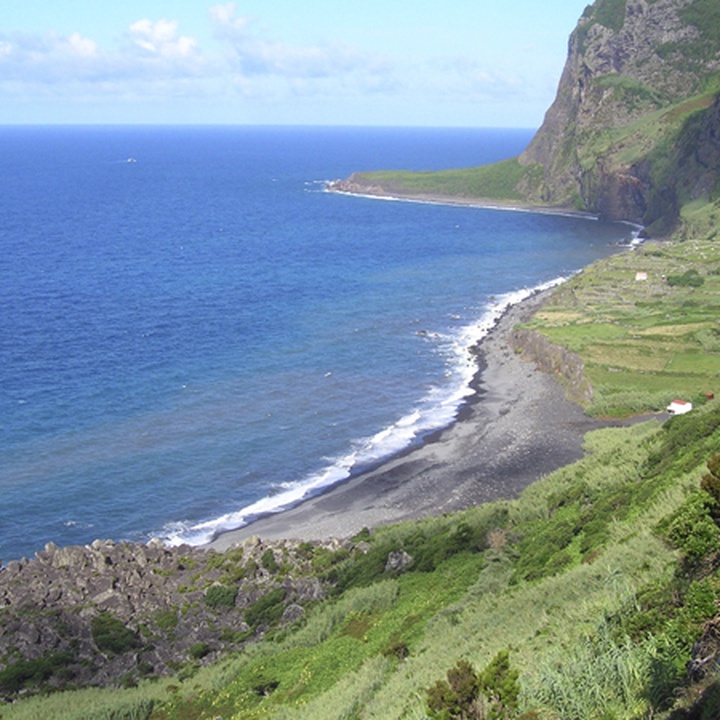 Gallery
This trail begins and ends by the Fajã de Lopo Vaz Viewpoint.
During the walk, one can see small waterfalls, bird species of the Azores and beautiful examples of endemic flora, as well as some introduced species. A revealing aspect of anthropogenic action on this site is its microclimate, reputed as the hottest of Flores Island.
Go down from the Fajã de Lopo Vaz Viewpoint and, after the first slope, you will arrive at a place where water runs between individuals of the species Cryptomeria japonica. A little further, go down the sea-cliff along a stone staircase and, just in front, one can see the Ponta da Rocha Alta. At the right side, sprout small waterfalls where blooms the species Nasturtium officinale. In the distance, one can observe the Fajã de Lopo Vaz and start the final descent towards the sand area, where it is possible to find a beach.
To explore the Fajã, after reaching the first house, instead of going to the sand area, one can go on the old track that divides the Fajã almost in half. Passing through small houses that come up in surprising places, continue along the path until it gets lost in the lands of the Fajã's west border.
The return has to be done through the same road until one get back to the entry of the trail, in the Fajã de Lopo Vaz Viewpoint.
Due to its microclimate, here are produced the biggest bananas of the island, as well as figs, grapes and yellow strawberry guavas.