Great Route - Stage 2: Ponta Delgada - Lajedo
Altitude (Min / Max):
0m / 411m
&nbsp
How to get there
Follow in direction to Ponta Delgada parish, in Santa Cruz county. Arriving at the parish centre, go to the Casa do Povo building (local support house for the people) and find the signage that indicates the beginning of the trail.
Recommended gear
Appropriate footwear for walking, waterproof jacket, hat, sunscreen and water.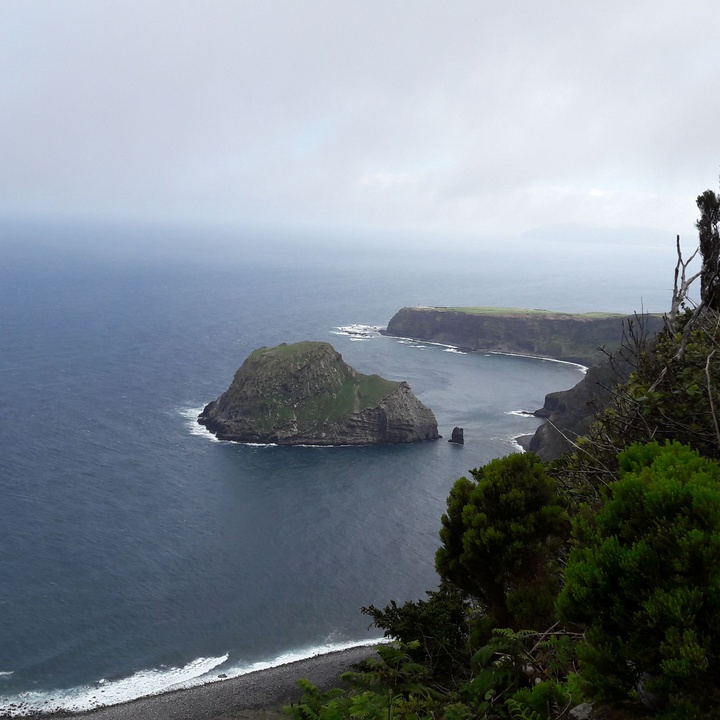 Gallery
This second stage of the Great Route of Flores starts in the centre of Ponta Delgada parish and ends in Lajedo parish.
Leaving from the Casa do Povo (local support house for the people), follow by a road between agricultural fields until you find, after a few kilometres, a crossroad where you should continue to the south, with the Maria Vaz Islet approximately at your right. Behind stays the Albarnaz Lighthouse that can be visited.
After a climb and still on the road, find the entrance to a footpath and follow the signage of the trail PR03FLO until you find the Lugar da Ponta da Fajã on the Fajã Grande parish. Continue on the road and a footpath until you find the regional road where there is, at the right, a dirt path parallel to Ribeira Grande that leads you to Fajazinha parish.
Cross this parish and, after climbing the slope, walk until you find the Mosteiro parish. Following to the south, you will find, at the right, a beautiful view of the Rocha dos Bordões and the coastline. Passing through the Mosteiro parish, it is possible to find again a footpath that, going to the south, leads to Lajedo parish.