Ponta Delgada - Fajã Grande PR1FLO
Altitude (Min / Max):
6m / 411m
&nbsp
How to get there
Head towards Ponta Delgada parish, in Santa Cruz County. Arriving at the parish's centre, head towards the Casa do Povo (local support house for the people) and find the sing that indicates the beginning of the trail.
Recommended gear
Appropriate footwear for walking, waterproof jacket, hat, sunscreen and water.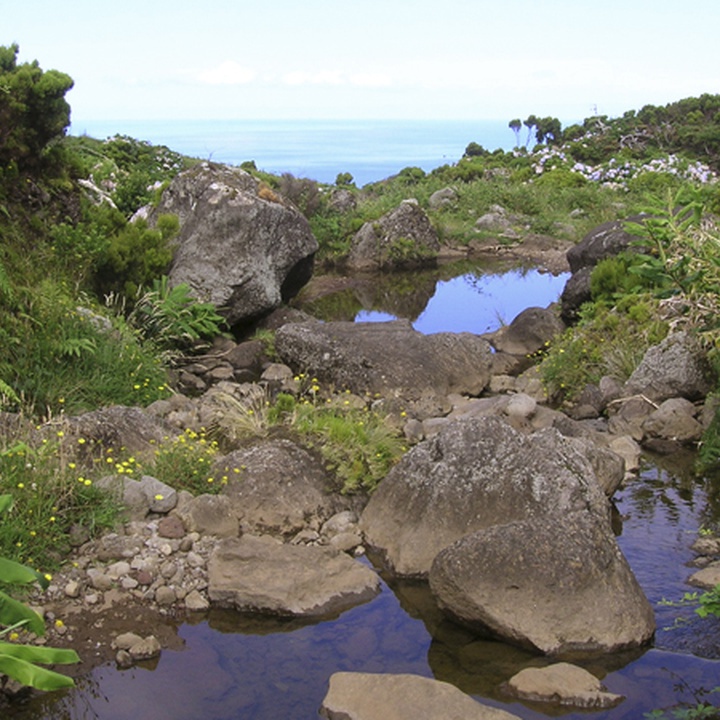 Gallery
The trail begins in Ponta Delgada parish, goes through Ponta da Fajã and ends at Fajã Grande.
Along the trail, stands out stone paths and pastures enclosed by stone walls. It is possible to see Corvo Island, the Ilhéu de Maria Vaz and Ilhéu do Monchique (islets) and find endemic flora and avifauna specimens, and some migratory species that nest on the island. The trail covers the Costa Nordeste Protected Area for the Management of Habitats or Species and the Zona Central e Falésias da Costa Oeste Protected Landscape Area.
Several streams cross the trail with uneven floors. Sometimes, it becomes slippery in these places, so we do not recommend you make it after periods of heavy rainfall.
Start the trail in the centre of Ponta Delgada, near Casa do Povo (local support house for the people). Follow the marks along the road with the island of Corvo at Northeast. After passing the last houses, continue until you reach a detour on your right towards the Ponta do Albernaz Lighthouse, the most western lighthouse of the Archipelago and Europe.
After visiting the lighthouse, return by the same path, turning right towards South. Approximately with the islet of Maria Vaz on your right, leave the asphalt road and follow the dirt road ahead. This area called Casteletes allows viewing (besides the islet left behind) the Fajã da Quebrada Nova and, if the weather allows it, the island of Corvo at North.
Arriving at the edge of the sea-cliff, the route descents the Rocha do Risco – attention to the danger of vertigo – along a forest area of Juniperus brevifolia until you arrive at Ponta da Fajã, where you will find the traditional stone houses and yards with the typical "inhames" (taros). Follow the marks, passing through the detour to Poço do Bacalhau until you reach the bathing and picnic area of Fajã Grande, where the walk ends and you can refresh yourself in the waters of the Atlantic.