Ponta Delgada - Fajã Grande PR1FLO
Altitude (Min / Max):
6m / 411m
&nbsp
How to get there
Head towards Ponta Delgada parish, in Santa Cruz County. Arriving at the parish's centre, head towards the Casa do Povo (local support house for the people) and find the sing that indicates the beginning of the trail.
Recommended gear
Appropriate footwear for walking, waterproof jacket, hat, sunscreen and water.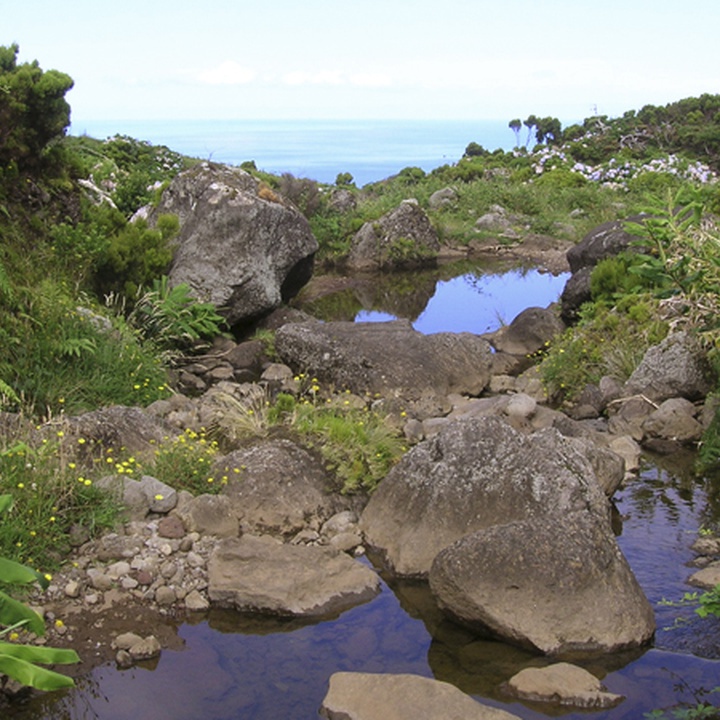 Gallery
The trail begins in Ponta Delgada parish, goes through Ponta da Fajã and ends at Fajã Grande.
Along the trail, stands out stone paths and pastures enclosed by stone walls. One can see Corvo Island, the Ilhéu de Maria Vaz and Ilhéu do Monchique (islets) and find endemic flora and avifauna specimens, and some migratory species that nest on the island.
Start the trail in the centre of Ponta Delgada, near Casa do Povo (local support house for the people). Follow the marks along the road with the Corvo Island at northeast. After passing the last houses, continue until the fork near the Albarnaz Lighthouse, where one shall turn left and go up the cement road to find an old path on the right. Walk through this path until a climb on the left. Continue until the edge of the sea-cliff, where one can find some wooden stairs, and then start the descent on a sloped floor with steps in natural stone. After the accentuated descent, one will find path that will take you through a traditional cobblestone path to Ponta da Fajã.
Arriving at Ponta da Fajã, one will find the traditional stone houses and yards with the typical "inhames" (taros). Continue down the road toward Fajã Grande, where one can find a bathing area, a picnic park, bars and restaurants. Here, one can regain strength while enjoying the landscape.
Several streams cross the trail with uneven floors. Sometimes, it becomes slippery in these places, so it is not advisable to make it after periods of heavy rainfall.