MTB Circuit - Parque Florestal do Capelo
Altitude (Min / Max):
223m / 276m
&nbsp
How to get there
Leaving from Horta city towards the west, follow the Regional Road passing by the Feteira and Castelo Branco parishes. After arriving at Capelo parish, continue on the Regional Road. After passing the Varadouro entrance on your left, about 500 metres ahead is the sign to the Parque Florestal do Capelo (Capelo Forest Park), on your right.
Recommended gear
Appropriate footwear, waterproof jacket, helmet, sunscreen, water.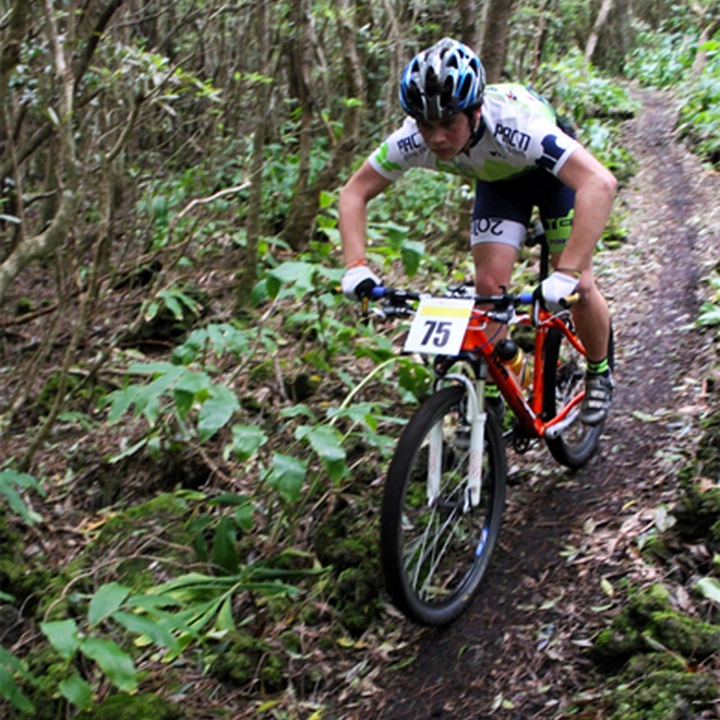 The circuit begins and ends on the place of Cruzeiro, in Parque Florestal do Capelo (Capelo Forest Park). The journey made by bike develops in the middle of a dense forest with characteristic species of Laurel Forest.
The circuit, with a length of 2 kilometres, a low difficulty level and a duration of about 1 hour, results from the recovery of a pedestrian old trail and part of a dirt path once used by local farmers.
O trilho de BTT desenvolve-se integralmente no Parque Florestal do Capelo, espaço onde podem ser observadas várias espécies naturais dos Açores, nomeadamente associadas ao habitat de Laurissilva costeira, nomeadamente Morella faya (faia-da-terra), (Laurus azorica (louro-da-terra), Erica azorica (urze), Myrsine retusa (tamujo) e Picconia azorica (pau-branco).
O desporto de natureza deve ser praticado tendo em atenção a sua preservação, por isso cumpra as regras de conduta básicas, tais como circular dentro dos locais e trilhos demarcados, não abandonar lixo nem colher, capturar ou abater exemplares de quaisquer espécies naturais.