Interpretive Circuits - Whalers' path
Altitude (Min / Max):
2m / 179m
&nbsp
How to get there
Leaving from Horta city towards west, follow the Regional Road and pass the parishes of Feteira and Castelo Branco. Arriving at Capelo parish, continue on the Regional Road. After passing the entrance to Parque do Capelo (Capelo Forest Park) on the right, you will find an intersection where you should turn left, and then follow the road signs indicating "Vulcão dos Capelinhos". After about 4 kilometres, you will come across the access to the Volcano on your left, and then the Centre's parking lot on the right.
Recommended gear
Appropriate footwear for walking, waterproof jacket, hat, sunscreen and water.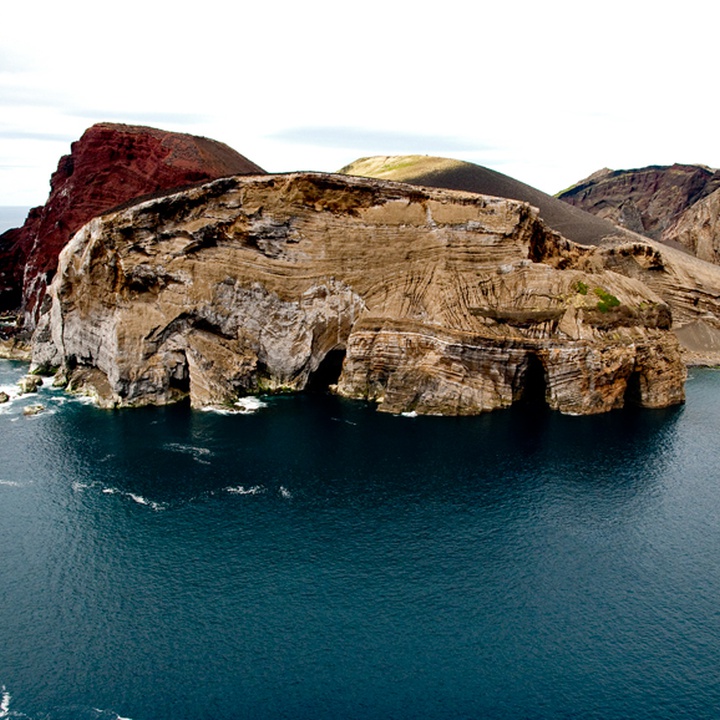 The circuit begins and ends in the parking lot of the Capelinhos Volcano Interpretation Centre. Along this trail, you can experience the sensation of living in a time when whaling was one of the most important economic resources for Faial Island.
This circuit reflects the importance of the old Porto do Comprido (whaling harbour), one of the largest and most productive whaling stations in the Azores until 1957 when the Capelinhos Volcano began its activity. The circuit, with a length of 3.8 kilometres, a low difficulty level and a duration of about one hour and thirty minutes, starts and ends at the car park of Capelinhos Volcano Interpretation Centre.
On P1 it is possible to observe the old Porto do Comprido (whaling harbour), considered the major and most productive whaling station of the Azores until September 1957.
A few metres ahead, on P2, is the Whaler Boats' House, where the whalers often gathered to eat or for other social activities when they were not hunting. It is now an interpretation centre with an exhibition about whale hunting.
Following along the main road you reach P3, where you can see the ruins of the old Whalers Village.
On P4 there is an "eira", an expression that dates back to the 16th century, naming the circular floors, near the houses, where the collected cereals were left to dry, thresh or clean.
Follow the trail marks to reach P5, where you will find the ruins of the old Costado da Nau whale lookout. It was here that the first volcanic manifestations of Capelinhos were seen.
At the end of the circuit, visit the Capelinhos Volcano Interpretation Centre and get to know more about one of the most important phenomena in the Azorean history of the 20th century.