Faial from Coast to Coast GR01FAI
Altitude (Min / Max):
0m / 1000m
&nbsp
How to get there
Leaving the Horta city, take the Regional Road towards the east to Ribeirinha parish. Go down towards the parish centre and continue until you reach the building of the Parish Council.
Recommended gear
Appropriate footwear for walking, waterproof jacket, hat, sunscreen and water.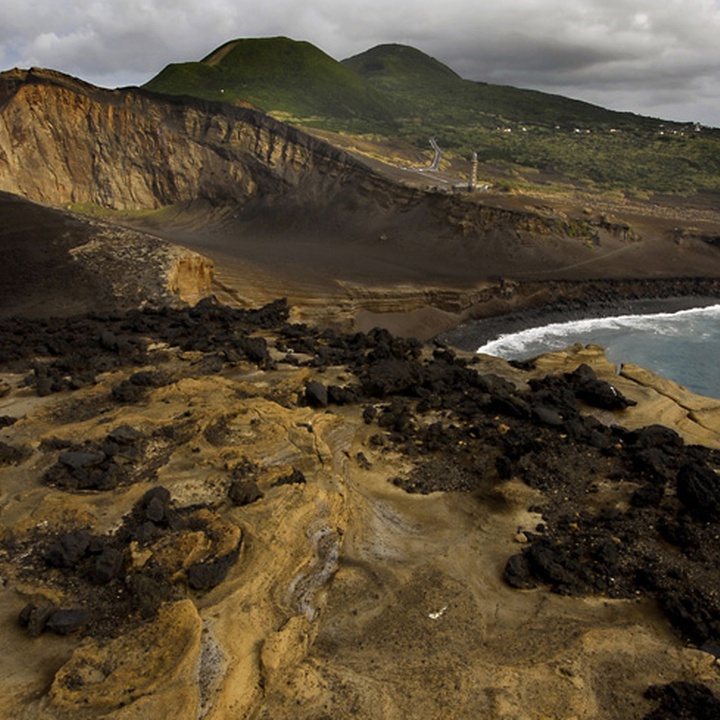 This trail begins in Ribeirinha parish, the oldest and most eastern point of the island, and ends in Capelinhos, Capelos parish.
Passing by volcanic cones, craters, caves and pits, mysterious and characteristic locations of the beautiful Azorean volcanic landscapes, this trail takes us to the age of the island's formation.
The trail covers the Lomba Grande Protected Area for the Management of Habitats or Species, the Zona Central Protected Landscape Area, the Caldeira do Faial Nature Reserve and the Cabeço do Fogo and Capelinhos, Costa Noroeste e Varadouro Protected Areas for the Management of Habitats or Species, ending at the Vulcão dos Capelinhos Natural Monument.
Beginning at Ribeirinha Parish Council, this route starts exactly where the primitive island formed through the ancient volcano of Ribeirinha of about 800 thousand years old, which originated the volcanic complex of the same name. The trail rises to 1000 metres altitude, on ancient paths, crossing through the Caldeira do Faial (caldera). It is a crater of a dormant volcano with 2 kilometres in diameter and depth of 400 metres, raised about 410 thousand years ago and whose successive eruptive phases built the central area of Faial, called Caldeira Volcano.
The trail goes through lush landscapes, typical of these islands, to the lunar desert landscape of the Capelinhos Volcano, resulting from the eruption of 1957/58 responsible for the emission of 175 000 000 m3 of ash, the last volcano of this cone alignment, and the most recent European volcanic peninsula. It ends at the Capelinhos Volcano Interpretation Centre that explains the importance of this volcano and the scientific and social transformations it caused in the 20th century.