Dez Vulcões PR06FAI
Altitude (Min / Max):
2m / 934m
&nbsp
How to get there
Leaving from Largo Duque D'Ávila e Bolama, in the centre of Horta city, in front of the City Hall, head north towards Flamengos parish and follow the signs indicating the "Caldeira".
Recommended gear
Appropriate footwear for walking, waterproof jacket, hat, sunscreen and water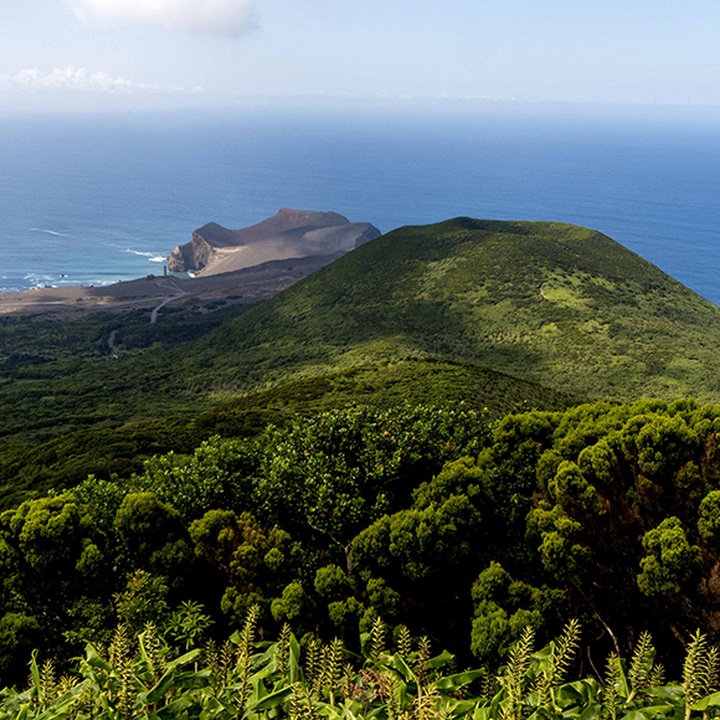 Gallery
The trail starts at the Caldeira Viewpoint and ends at the Capelinhos Volcano Interpretation Centre (Capelo parish).
This trail combines three segments of existing trails in Faial: Caldeira, Levada and Cabeço do Canto. The trail starts at the Caldeira (caldera) and runs through, as its name suggests, 10 of the main existing volcanoes in the fissured alignment of Capelo Peninsula. Biodiversity and geodiversity are a constant in this trail, highlighting the landscapes of Capelo Peninsula and the old Capelinhos Lighthouse, on an authentic lunar setting where is possible to step on land formed by ash, tuff and volcanic bombs.
This trail has an unevenness of about 1000 metres, enabling us to discover much of the Azorean endemic flora from altitude examples, through the medium altitude and features species of ravines and sheltered places. It ends in the Capelinhos Volcano Interpretation Centre, on Capelo parish.