Descent to Caldeira
Altitude (Min / Max):
574m / 908m
&nbsp
How to get there
Leaving from Largo Duque D'Ávila e Bolama, in the centre of Horta city, in front of the City Hall, head north towards Flamengos parish and follow the signs indicating the "Caldeira".
Recommended gear
Appropriate footwear for walking, waterproof jacket, hat, sunscreen and water.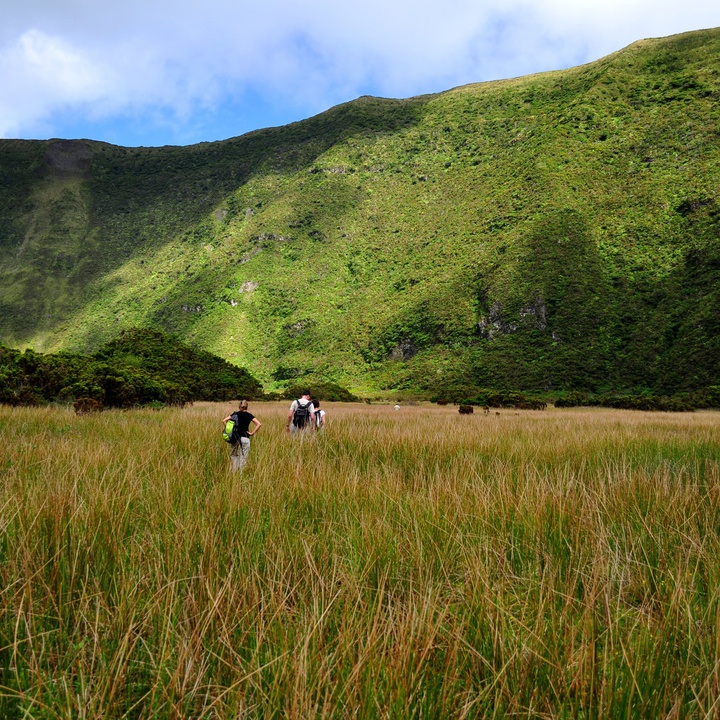 The trail starts and ends at the Caldeira Viewpoint and descends to the bottom of one of the most spectacular and largest volcanic calderas in the Archipelago, where you can find, in a perfect state of conservation, the natural vegetation of the Azores.
On the descent to Caldeira (caldera), classified as a Nature Reserve, you can see all the abundant exuberance of the wet Laurel Forest. It is one of the most precious natural flora redoubts of the Archipelago, located in the caldera of a volcano with about 330 hectares, 2 kilometres in diameter and an average depth of 400 metres.
Given the need to preserve the natural values present in the Caldeira do Faial, with emphasis on the geological, biological and landscape uniqueness of this place, the Access regulation to the interior of the Caldeira do Faial was created.
According to this regulation, the visit to the Caldeira's interior is made between sunrise and sunset, always accompanied by a Faial Nature Park's guide, and has a maximum load capacity of 40 visitors per day, without exceeding the maximum period of three hours.
Access regulation to the interior of the Faial Caldera, click here (in Portuguese).
Norms of Conduct on Caldeira do Faial, click here.
If you are an authorized entity, make your authorization request here.