Caldeira PRC04FAI
Altitude (Min / Max):
881m / 1043m
&nbsp
How to get there
Leaving the Largo Duque D'Ávila e Bolama, in the centre of Horta city, in front of City Hall, head north towards Flamengos parish and follow the signs indicating the "Caldeira".
Recommended gear
Appropriate footwear for walking, waterproof jacket, hat, sunscreen and water.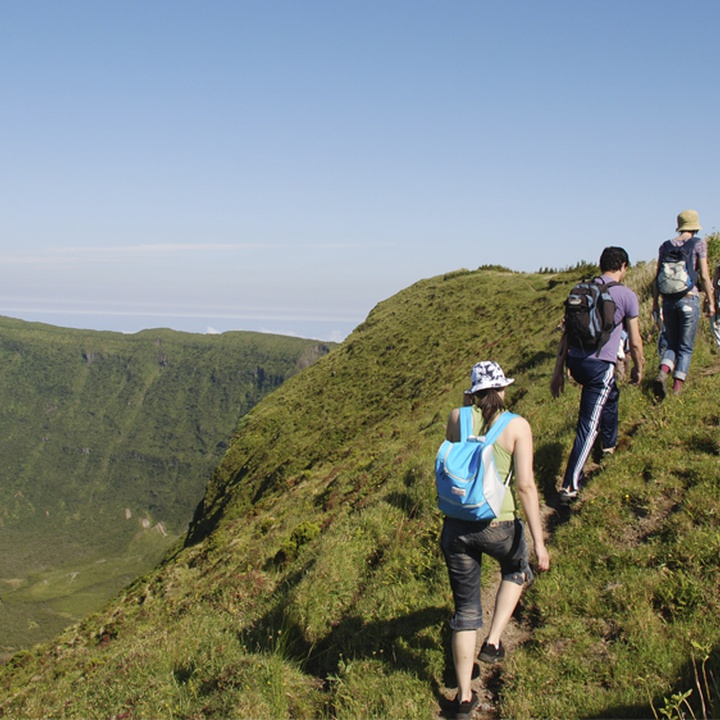 The trail begins and ends at the Caldeira Viewpoint and in integrated into the Caldeira do Faial Nature Reserve. This circular route located in the center of the island, shows an important Geosite – Caldeira –, going around its perimeter.
With around 2 kilometres in diameter, it was formed through several eruptions, intertwined with periods of calm, along the last 400 thousand years, and the last eruption occurred only 1000 years ago. On the bottom, there is a cone resulting from the latter eruptive phase that is very similar to the shape of Faial island. In this place, you can observe the typical vegetation of altitude of the Laurel Forest and enjoy the the natural beauty of the entire island.
Start the trail next to the Caldeira Viewpoint, one of the prettiest of Faial, cross the small tunnel accessing the crater and enjoy the view to its interior, filled with abundant flora, typical from the laurel forest. Back to the road, go up the stairs and follow right by a dirt path towards the Chapel of São João.
Along the trail, it is possible to appreciate several specimens of endemic flora such as Azores Juniperus brevifolia, Erica azorica, Vaccinium cylindraceum, Euphorbia stygiana ssp. stygiana, Angelica lignescens, among others.
As you go around Caldeira enjoy the views over the north and west coast, as well as its interior. Before the trail starts going up towards Cabeço Gordo, the highest point of the trail at 1043 meters of altitude, you will cross a connection to the west side of the island through the trail PR06 FAI – Rota dos Dez Vulcões. Passing by the antennas, the trail goes down until the initial viewpoint. This part requires some caution due to its steep gradient.