Caldeira's Perimeter PRC4FAI
Altitude (Min / Max):
881m / 1024m
&nbsp
How to get there
Leaving from Largo Duque D'Ávila e Bolama, in the centre of Horta city, in front of City Hall, head north towards Flamengos parish and follow the signs with "Caldeira" indication.
Recommended gear
Appropriate footwear for walking, waterproof jacket, hat, sunscreen and water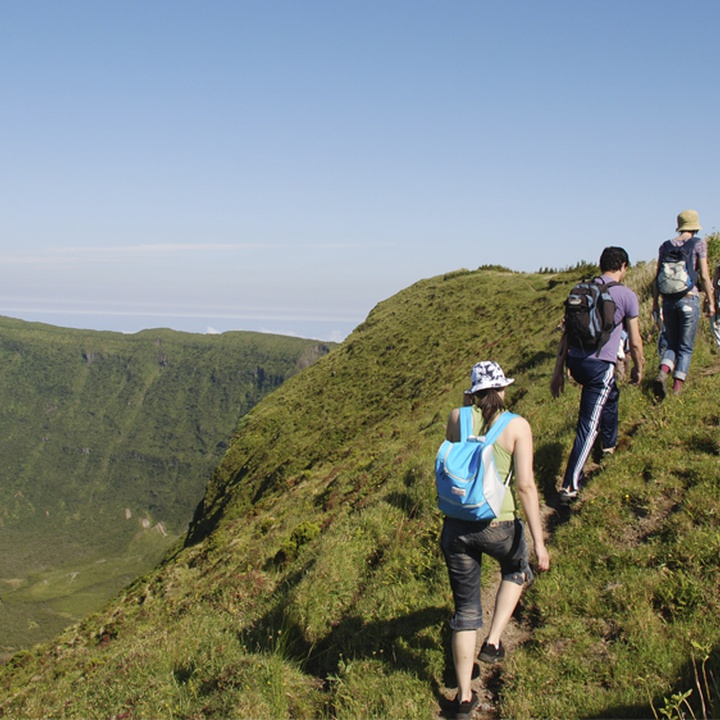 The trail begins and ends at the Caldeira Viewpoint. In this place, you can observe the only volcanic caldera of the island and the typical vegetation of altitude Laurel Forest.
Start and finish the trail next to the Caldeira Viewpoint, one of the nicest of Faial, travelling the perimeter of the Caldeira. Located in the central part of the island, the Caldeira has a diameter of about 2 kilometres and an average depth of 400 metres, covered with lush vegetation of Laurel Forest. This caldera is the result of successive reduction stages of a volcano of 410 thousand years old and whose last eruption occurred only 1000 years ago. On the bottom, there is a cone resulting from the latter eruptive phase that is very similar to the shape of Faial Island.