Cabeço do Canto PRC01FAI
Altitude (Min / Max):
255m / 397m
&nbsp
How to get there
Leaving Horta city, take the Regional Road towards the Capelinhos Volcano. After passing the Capelo Forest Park, turn to the Trupes do Capelo and follow a secondary way until you find directions to the trail.
Recommended gear
Appropriate footwear for walking, waterproof jacket, hat, sunscreen and water.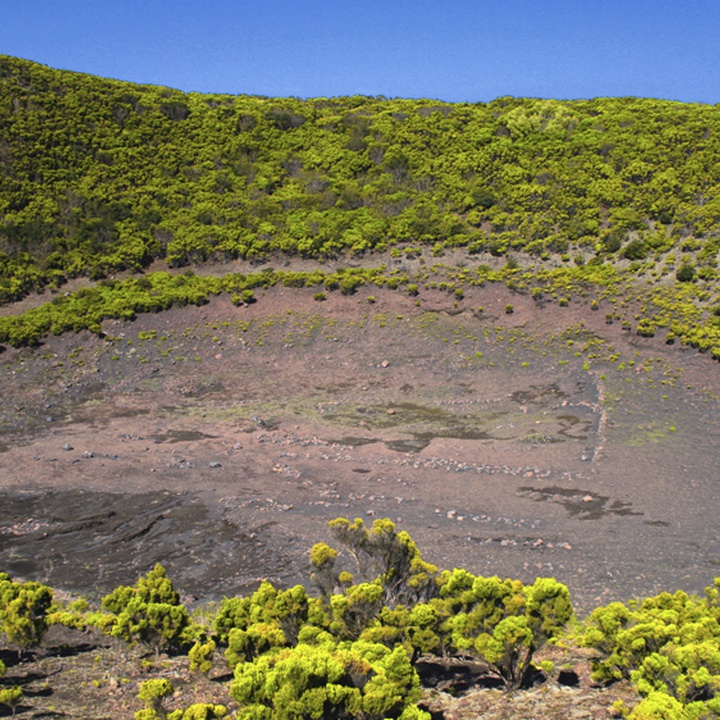 Gallery
The trail begins and ends by the road that goes up to Cabeço Verde, passing through unique sites, particularly the Furna Ruim (cave) and the Caldeirão, and offers beautiful views of the Capelo Peninsula's landscape.
This route is integrated into the Zona Central Protected Landscape Area and go through areas of great volcanic interest like the volcanic ridge of Península do Cabeço, a geosite with around 20 volcanic cones, from Cabeço dos Trinta until Capelinhos.
Start the trail in the crossroad that goes up to Cabeço Verde and follow left between the wood until Furna Ruim, a volcanic pit with a depth of 55 metres. Contemplate this volcanic phenomenon with caution and continue to Algar do Caldeirão that you should go around by the right end side, through some examples of Laurel Forest, such as Laurus azorica, Ilex Azorica, Vaccinium cylindraceum and Erica azorica.
Arriving at the gravel road, which you should cross carefully, continue climbing through a staircase until Cabeço do Canto. Go around the volcanic cone by the left end side, enjoying the view of the Capelinhos Volcano. Return by going around the second cone by the right end side until reaching the starting point.
At the end of the trail, visit the Cabeço Verde (accessible by road), observing the trail done and the view over Praia do Norte, Cabeço do Fogo, Morro do Castelo Branco, and the remaining volcanic cones arranged in an east-west orientation, culminating in the Capelinhos Volcanos.