Cabeço do Canto PRC01FAI
Altitude (Min / Max):
253m / 488m
&nbsp
How to get there
Leaving Horta city, take the Regional Road towards the Capelinhos Volcano. After passing the Capelo Forest Park, turn to the Trupes do Capelo and follow a secondary way until you find directions to the trail.
Recommended gear
Appropriate footwear for walking, waterproof jacket, hat, sunscreen and water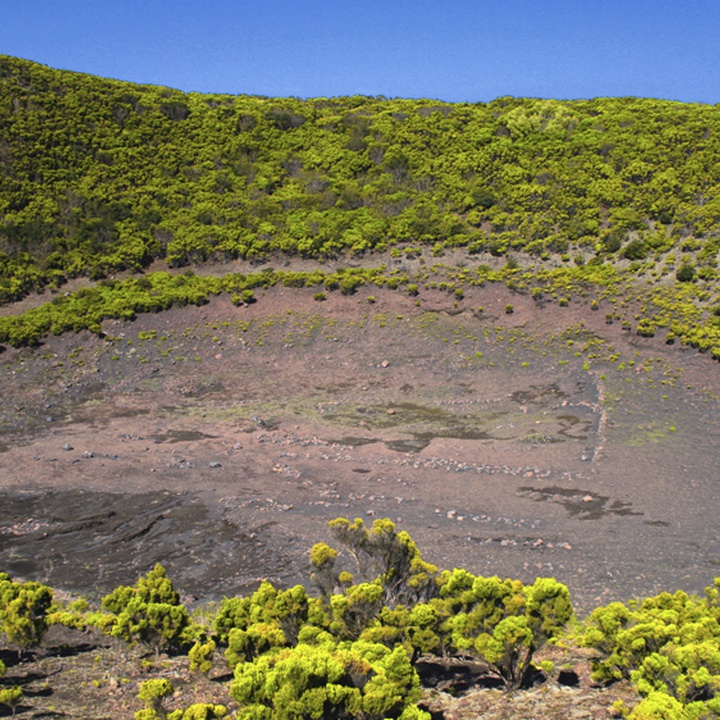 Gallery
The trail begins and ends by the road that goes up to Cabeço Verde, passing through unique sites, particularly the Furna Ruim (cave), the Caldeirão and the entire Capelo Peninsula's landscape. Along the way, you can see several examples of the Laurel Forest.
Start the trail in the crossroad that goes up to Cabeço Verde and then turn left on the path near the informative signs. Turn left to Furna Ruim, a volcanic pit with a depth of 55 metres. Proceed on the shortcut through some examples of Laurel Forest, such as Laurus azorica, Ilex Azorica, Vaccinium cylindraceum and Erica azorica, going around the Algar do Caldeirão until you reach a path of small stones.
Cross the path and go up the staircase toward the Cabeço do Canto, where you can sight the Capelinhos Volcano's landscape. Go around this Cabeço and return by the same path, following the markings, until you reach the starting point.