Levada PR03FAI
Altitude (Min / Max):
668m / 752m
&nbsp
How to get there
Leaving from Horta city, take the Regional Road towards Cedros parish. Take the Rua da Igreja (street) and follow to the junction of the asphalt road. Turn to your right and follow the road until you find the indication for the trail.
Recommended gear
Appropriate footwear for walking, waterproof jacket, hat, sunscreen and water.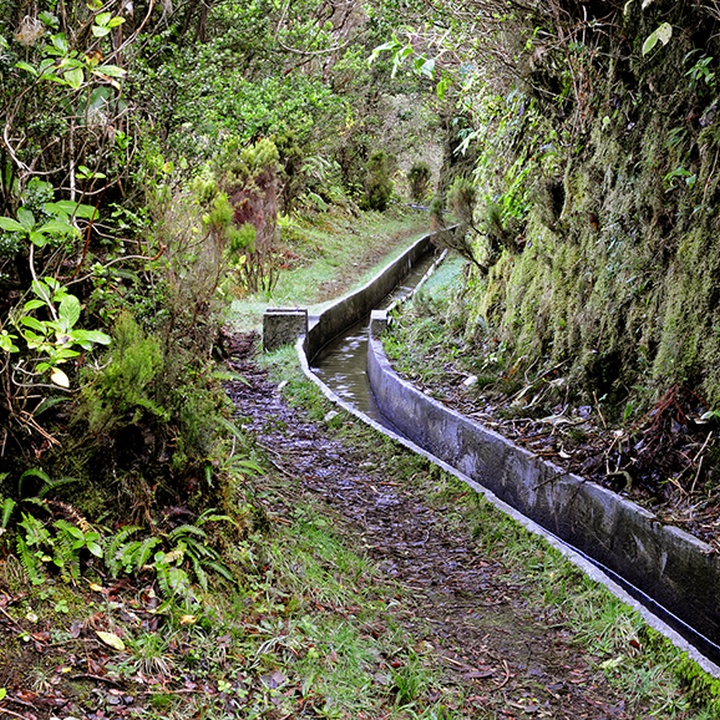 Gallery
The trail starts in Cedros parish near the place of Alto do Chão and ends at Cabeço dos Trinta in Capelo parish. This trail develops along a levada (irrigation channel), where it is possible to observe several examples of flora and fauna characteristic of the Archipelago.
A Levada, qualificada como "a maior obra de engenharia dos Açores" no dia da sua inauguração em 1964, levou sete anos a ser planeada e quatro a ser construída. É um canal de água, implantado a 680 metros de altitude, que tinha por principal função a produção de energia hidroelétrica. Ao longo dos seus 10 quilómetros, o canal recolhia água, proveniente das zonas de Castelhano, Cabeço, Risco, Fajãs, Cabras, Guarda-Sol e Águas Claras, que, posteriormente, era canalizada desde o reservatório principal, com capacidade de armazenamento de 1000 m3, até à minicentral hídrica do Varadouro.
O trilho apenas percorre cerca de 8 quilómetros da sua extensão onde é possível observar excelentes exemplares de flora Laurissilva, como as espécies Laurus azorica (louro-da-terra), Frangula azorica (sanguinho), Ilex azorica (azevinho) e Vaccinium cylindraceum (uva-da-serra). São também avistáveis espécies de aves dos Açores, nomeadamente Scolopax rusticola (galinhola), Turdus merula azorensis (melro), Regulus regulus inermis (estrelinha) e Fringilla coelebs moreletti (tentilhão).
O percurso termina próximo de um cone vulcânico, o Cabeço dos Trinta, o qual pode visitar através de um túnel que dá acesso ao seu interior.