Levada PR03FAI
Altitude (Min / Max):
641m / 718m
&nbsp
How to get there
Leaving Horta city towards the west, follow the Regional Road and pass the Feteira and Castelo Branco parishes. Arriving at Capelo parish, continue on the Regional Road and, 350 metres after the junction with the road leading to Caldeira, turn onto the asphalt road to the right. Continue along this road and turn right at the junction with a house in the middle. Further ahead you will find another junction where you should turn right again until you find the sign indicating the beginning of the trail.
Recommended gear
Appropriate footwear for walking, waterproof jacket, hat, sunscreen and water.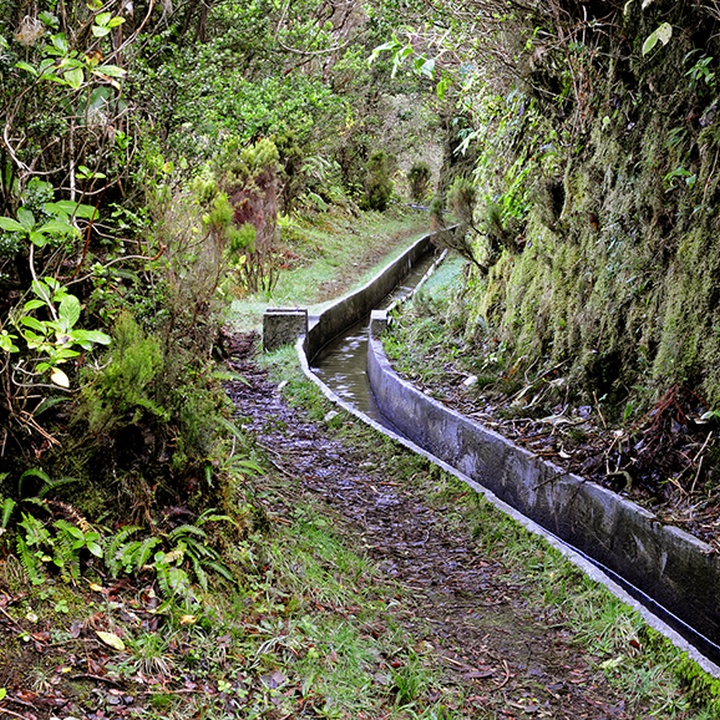 Gallery
Partially inserted in the Zona Central Protected Landscape Area, this trail develops along 8 kilometres of a levada (irrigation channel) and reveals areas of great volcanological interest, passing through the Península do Capelo geosite, and great diversity of fauna and flora species of the Laurel Forest.
The Levada, qualified as "the greatest engineering work of the Azores" on its inauguration day, took seven years to plan and four to construct. It is a water channel installed at 680 metres high, which main function was the hydroelectric power production. Throughout its 10 kilometres, the ditch collected water from the Castelhano, Cabeço, Risco, Fajãs, Cabras, Guarda-Sol and Águas Claras zones, later channelled from the main reservoir, with 1000 m3 storage capacity, to the mini hydric central of Varadouro.
Begin the trail near Cabeço dos Trinta (hill), Capelo parish. Choose the detour on the right end side until the tunnel that leads to the interior of the Cabeço, a volcanic cone filled with endemic vegetation. Return by the same path to the dirt road, follow to the right until you reach the water storage tank, which you should cross on the left and continue until you find the levada.
Sometimes, clearings open up along the trail, which will allow you to view the alignment of the volcanic cones of the Capelo Volcanic Complex. Continue through endemic vegetation such as Laurus azorica, Frangula azorica, Ilex azorica, Erica azorica, among others. It is also possible to see some birds from the Azores, such as the Turdus merula azorensis, the Regulus regulus inermis, and the Fringilla coelebs moreletti.
The trail continues following the levada, which was rehabilitated over 2 kilometres in 2013, until it ends in Alto do Chão, in the parish of Cedros.