Levada PR3FAI
Altitude (Min / Max):
668m / 752m
&nbsp
How to get there
Leaving from Horta city towards east, take the Regional Road towards Cedros parish. About 150 metres after snack-bar Aldina, find, at your left, the sign indicating the trail e turn left. Drive for 150 metres and turn left to Canada Larga (road). Following the signs, keep going up on this road until you find the indication for the beginning of the trail.
Recommended gear
Appropriate footwear for walking, waterproof jacket, hat, sunscreen and water.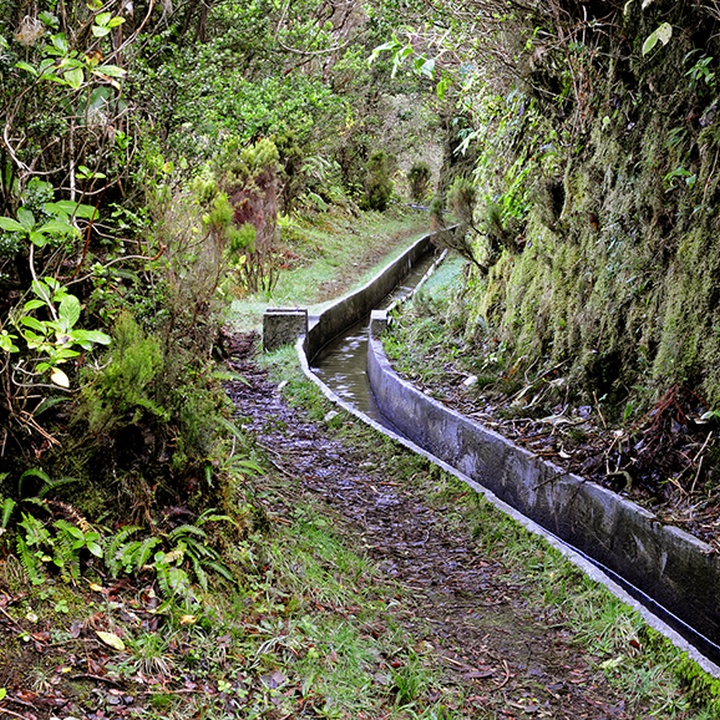 Gallery
The trail starts in Cedros parish near the place of Alto do Chão and ends at Cabeço dos Trinta in Capelo parish. This trail develops along the only existing Levada (ditch) in the region where it is possible to several examples of flora and fauna characteristic of the archipelago.
The Levada, qualified as "the greatest engineering work of the Azores" on its inauguration day, took seven years to plan and four to construct. The Levada is a ditch installed at 680 metres high, which the main function was hydroelectric power production. Throughout its 10 kilometres, the ditch collected water from the zones of Castelhano, Cabeço, Risco, Fajãs, Cabras, Guarda-Sol and Águas Claras, later channelled from the main reservoir, with 1000 cubic metres storage capacity, to the mini hydric central of Varadouro.
The trail only develops along approximately 8 kilometres of its extension where is possible to observe excellent examples of Laurel Forest flora, such as Laurus azorica, Frangula azorica, Ilex Azorica and Vaccinium cylindraceum. It is also possible to see Azorean birds' species, namely Scolopax rusticola, Turdus merula azorensis, Regulus regulus inermis and Fringilla coelebs moreletti.
The trail ends near a volcanic cone, the Cabeço do Trinta, which you can visit through a tunnel that gives access to the interior.