Great Route - Stage 3: Norte -Bananeiras
Altitude (Min / Max):
160m / 587m
&nbsp
How to get there
Leaving from the centre of Vila do Porto, head towards the Quatro Canadas roundabout, getting out on the exit to Santa Bárbara parish, following the Regional Road to the centre of the parish. There go by the path of Barreiro to the housing centre of Norte place.
Recommended gear
Appropriate footwear for walking, waterproof jacket, hat, sunscreen and water.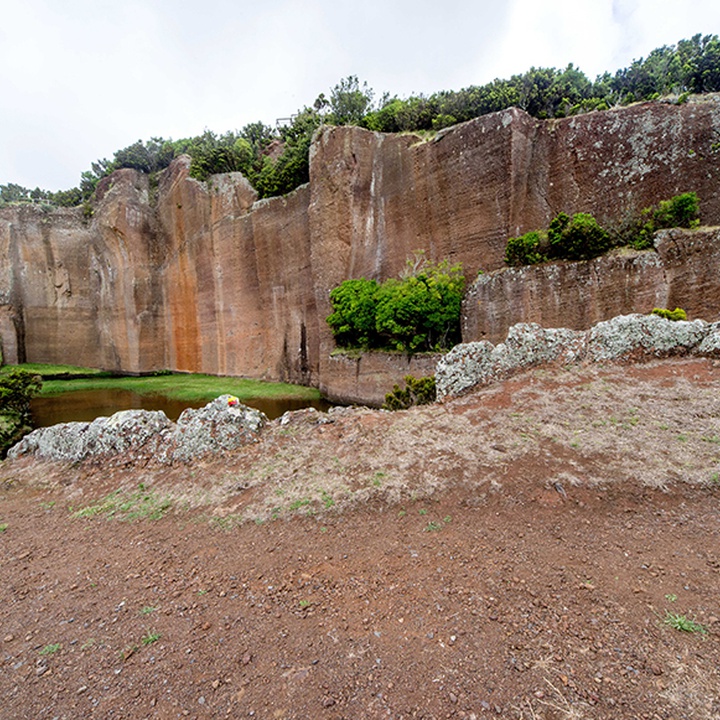 The third stage of the Grand Route begins in the parish of Santa Bárbara, dominated by the typical architecture of the island with indigo blue views on the doors and windows. This stage allows to know one of the local priority geosite, going through the Pico Alto, considered by the scientific community as a biodiversity hotspot, and where it is observed in its viewpoint the entire island. Finally, the route goes towards the place of the Bananeiras in São Pedro parish.
From the end of the previous stage, in the centre of Norte, follow the signs towards the parish of Santa Bárbara, passing by the places of Lagos, Poço Grande and Boavista.
Once inside the parish and after passing the Church of the Sagrado Coração de Jesus, turn left to find the primary school. Here choose the road that goes up until you find a dirt path that will take the Regional Road. From here, turn right towards the Poço da Pedreira, a geosite classified as priority by the Azores UNESCO Global Geopark.
Following the signs heading south, pass by the location of Arrebentão and after entering the place of Forno go down by a footpath to Ribeira do Salto (stream), where it is possible to see the Cai'Água waterfall.
When you find a fountain, follow toward the west by a dirt path that connects to the place of the Cruz dos Picos. Go north on the Regional Road until you reach the Pico Alto, the highest point of the island with 587 metres of altitude and rich in endemic vegetation.
At this point, you will find a dirt staircase that descends toward the area of ​​the Caldeira. This part of the route runs through a forested area where there is a geodesic mark with a privileged view of São Pedro parish.
The track descends towards the Regional Road and, when it reaches the junction, you should choose the path on your right. This final section passes through agricultural and forest lands, ending on a fountain next to the road that leads to the place of Bananeiras, where ends the stage.