Great Route - Stage 2: Cardal - Norte
Altitude (Min / Max):
40m / 310m
&nbsp
How to get there
Leaving from the centre of Vila do Porto, head towards the Quatro Canadas roundabout, getting out on the exit to Santo Espírito parish. Following the Regional Road, you will reach the place of Terras do Raposo where you should make the detour to the right towards the Cardal.
Recommended gear
Appropriate footwear for walking, waterproof jacket, hat, sunscreen and water.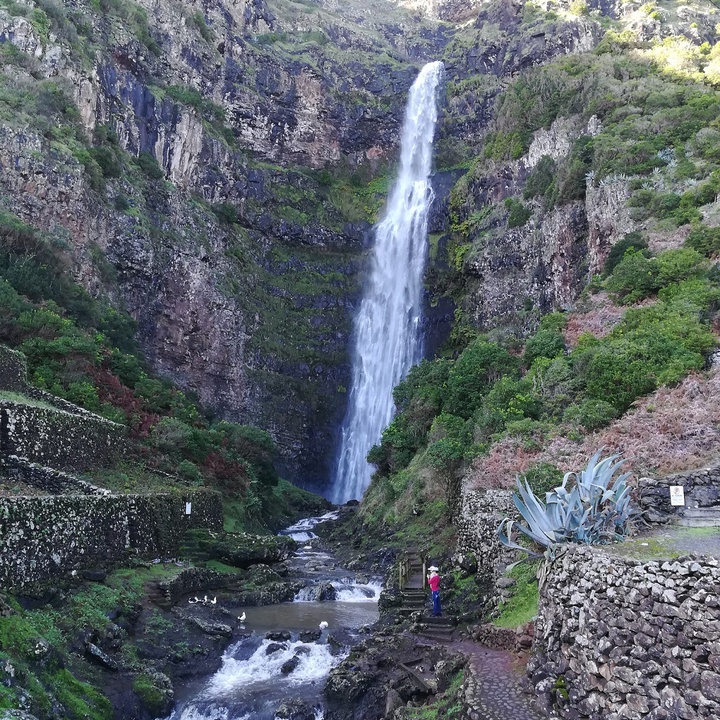 Gallery
The second stage of the Grand Route provides a course passing through the Vigia da Baleia Viewpoint, overlooking the Ponta do Castelo, crosses the Baía da Maia (bay), rises next to one of the highest waterfalls of Portugal, the Cascata do Aveiro, and goes through part of Santo Espírito parish to the beautiful Baía de São Lourenço. Then goes up the path of Fajãzinha, ending in the place of Norte in Santa Bárbara.
Leaving from the end of stage one, follow towards the Ponta do Castelo, passing by the Tia Raulinha Viewpoint. Proceed down the dirt path that leads to the fork road for Gonçalo Velho Lighthouse in Ponta do Castelo, where besides the possibility to visit the lighthouse (by appointment), you can observe several species of endemic flora and geological phenomena.
From here the path goes north, passing through the area of ​​the natural pools of Maia and continues to Lapa de Baixo, through a detour to the Cascata do Aveiro. After visiting this waterfall, continue until you find an agricultural road. At the sight of the ruins of a mill, you will be in the surroundings of the Espírito Santo parish.
Inside the parish, you should seek the Rua do Museu (street) and here you will find a dirt passage to the Caminho do Pico (path). The route continues north through the parishes of Santo António, Azenha de Cima and Azenha de Baixo. The path to the Espigão Viewpoint is made of traditional cobblestone and dirt paths. At this viewpoint, you can enjoy stunning views of the Baía de São Lourenço (bay).
On the Viewpoint's exit, the path continues through agricultural pastures, crossing the Ribeira do Salto (stream) towards the Baía de São Lourenço (bay). Go down the staircase through vineyards and across all the bay until you find the access path to the Fajãzinha towards Barreiro. After the climb, turn right and continue the track in the Regional Road, heading north.
Get out of the Regional Road, by your right, to the access path to the Pias Viewpoint (overlooking the Baía de São Lourenço) and proceed through this section, towards LOURAN Station.
In this phase of the route, you can see the entire north coast, along with the islet of Lagoínhas. Here the path reaches the end of the stage, at Norte.