Great Route - Stage 1: Vila do Porto - Cardal
Altitude (Min / Max):
15m / 270m
&nbsp
How to get there
Leaving from the airport, head towards Vila do Porto. Coming to an intersection, turn left into the Avenida de Santa Maria (avenue). At the end of the avenue, turn right to the centre of Vila do Porto and walk down the main road of the village to find in front the Forte of São Brás (fortress).
Recommended gear
Appropriate footwear for walking, waterproof jacket, hat, sunscreen and water.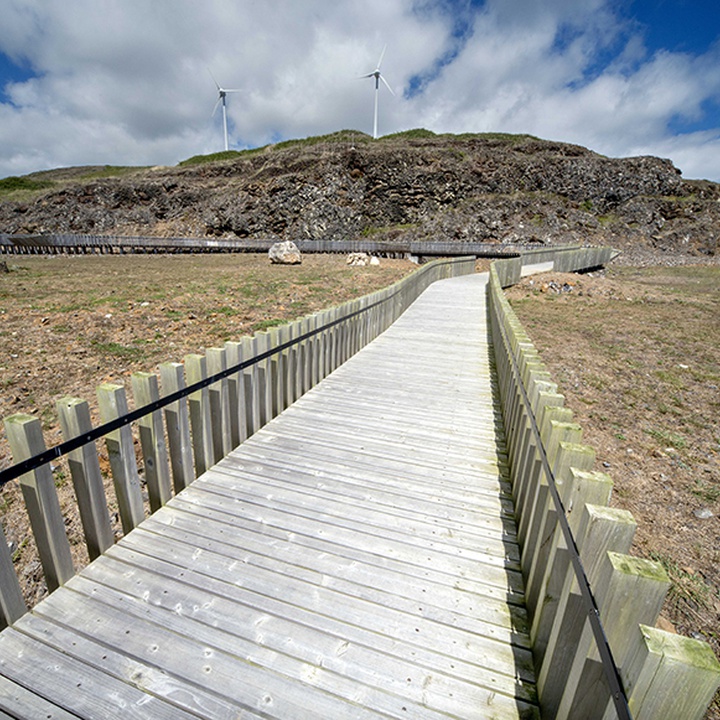 Gallery
This trail begins in the Forte de São Brás (fortress) in Vila do Porto. Runs through all the Pedreira do Campo, do Figueiral e Prainha Natural Monument and ends at Praia Formosa. Throughout this protected area it can be observed underwater volcanic formations and fossil deposits with two separate formation periods. Then heads towards Santo Espírito parish, passing through two geosites of high interest, and ends at the place of Cardal.
Start the route in Forte de São Brás (fortress) and go down to Ribeira de São Francisco (stream). The path continues towards the east to the Pedreira do Campo, a geosite aimed at preserving and promoting this geological, paleontological and volcanology uniqueness. Seize this place to rest and enjoy the view of the southern coast of the island.
From here the route continues by farmlands, towards Prainha and Praia Formosa, passing by the Forno and Gruta do Figueiral.
When leaving the beach area, you will pass the hermitage of Nossa Senhora dos Remédios and from here the route follows the old beach path that connects the bay to the Santo Espírito parish.
The track to Malbusca passes along rural paths and some sections in Regional Roads, so we advise caution. From this rural centre, follow along the shoreline toward the Barreiro da Piedade go to the Ponta da Malbusca, with a privileged view over the southwest coast. The route descends through the stream of Maloás, a geosite with an impressive geological formation, continues by agricultural paths and, as it approximates the end of the stage, it is possible to make a detour to sight the hermitage of Nossa Senhora da Boa Morte. Follow the signs by dirt paths, scrublands and farmlands to get to Cardal.