Costa Sul PR05SMA
Altitude (Min / Max):
3m / 185m
&nbsp
How to get there
Leaving from the Cais da Vila (pier), follow the signs towards Vila do Porto, coursing the main road. After about 930 metres you will find the Matriz da Vila do Porto church on your right, go straight ahead about 120 metres and on the Rua Teófilo Braga (street), the House of Fossils/ Dalberto Pombo Environmental Interpretation Centre is on your left.
Recommended gear
Appropriate footwear for walking, waterproof jacket, hat, sunscreen and water.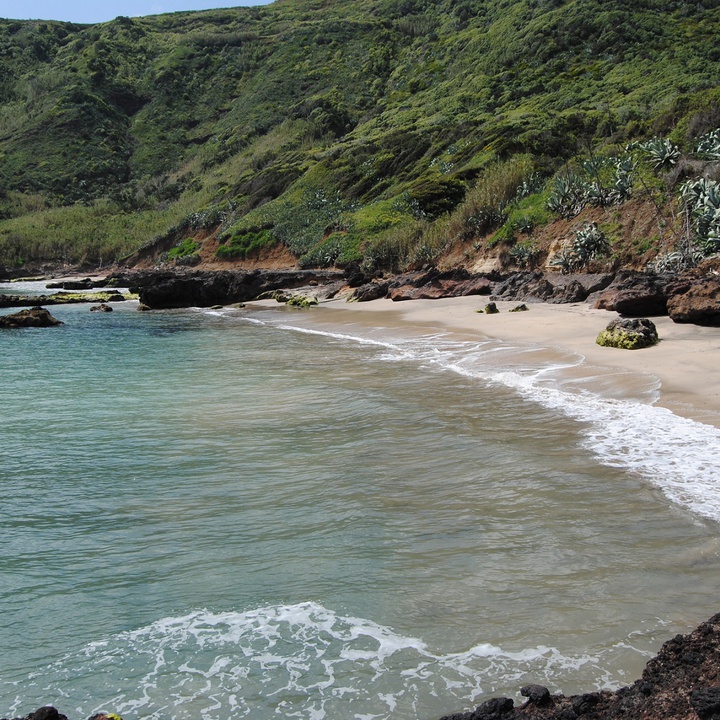 The Costa Sul trail begins at the house of Fossils/Dalberto Pombo Environmental Interpretation Centre, runs through the Pedreira do Campo, Figueiral e Prainha Natural Monument and ends at Praia Formosa.
At the Centre, the visitor receives information that allows the proper interpretation of what he will see along the trail, namely, underwater volcanic formations and fossil deposits with two separate formation periods.
Start this trail in the House of Fossils/ Dalberto Pombo Environmental Interpretation Centre, going down the main street of Vila do Porto towards the Forte de São Brás (fortress). Follow by a path that gives access to Ribeira de São Francisco, considered an interesting place for birdwatching.
The trail leads to Pedreira do Campo, an old front of exploitation of inert, with several underwater lava flows (pillow lava), unique in the regional context.
The trail continues through the pastures, to the Gruta do Figueiral, an artificial cave from which was extracted limestone and clay for the production of lime and roof tiles. In the surroundings of the cave, you can still see an old oven used to cook the extracted stones and at the ceilings of the cave and the furnace bricks you can observe many fossils of marine bivalves.
Continue the trip along the Costa Sul, by a path once used to transport the limestone. Besides the pleasant landscape, you can also observe natural flora and avifauna.
Arriving at the local access road, the signs will guide you to a new pasture entrance that leads to the slope of Prainha. The descent is done through mixed woodland of vegetation and species of aromatic flora.
Arriving at Prainha, there are dykes and minerals dug in the rock and outcrops of sedimentary rocks containing fossils. Proceed by the Forte da Prainha to Praia Formosa.