Baía de São Lourenço
Protected Landscape Area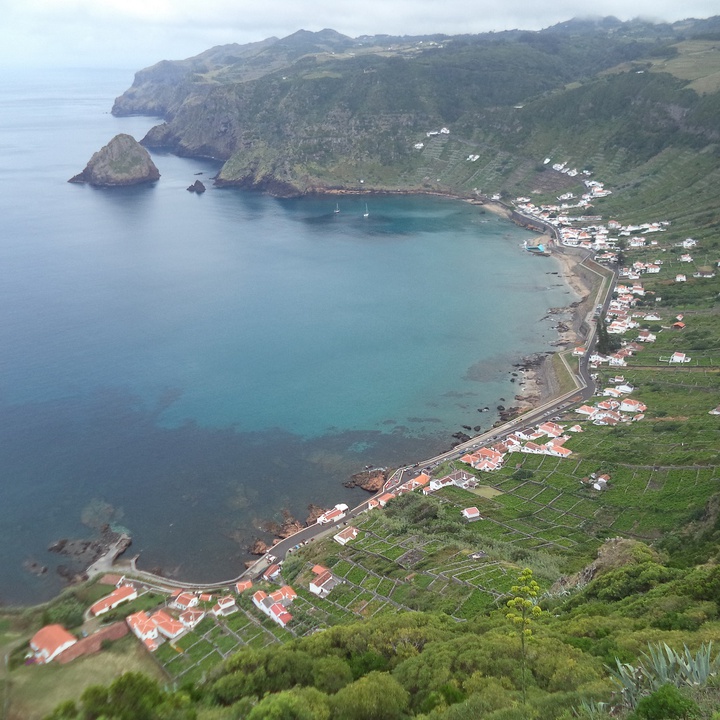 Along the descent through the bayside, with 60 hectares, and the view of the Espigão Viewpoint it becomes visible one of the largest local landscape richness.
The terraced fields of vineyards arranged along the slope and protected by walls of basaltic rocks (forming square-shaped plots) from slope deposits, due to the existing steep slope. Vineyards traditionally cultivated with "uvas-de-cheiro" (grapes), which were collected in pastel baskets and carried on the shoulder, by the slope for later confection of the traditional "Vinho de Cheiro" and "Vinho Doce" (wines).
In the southeast boundary of this protected area is the Ponta Negra where you can see visible submarine lava flows (pillow lavas) and a fossiliferous deposit. This deposit, with variable thickness in the sedimentary deposits (between 4 and 8 metres), is rich in ichnofossils (traces of the activity of marine living beings) and fossils of molluscs (bivalves and gastropods), sea urchins and cetacean bone fragments. Due to this fact, it is classified as a class 3 fossil deposit of the Santa Maria Paleopark.
Ilhéu do Romeiro (islet), located on the south part of the bay and in front of Ponta Negra, has an erosion cave, with stalactites and stalagmites, accessible by boat where is possible to observe the only mammal endemic to the Azores, the Nyctalus azoreum (morcego dos Açores).
The islet and the bay slopes offer excellent conditions to the nesting of several seabirds, such as the Calonectris borealis (cagarro) and the Sterna hirundo (garajau-comum).
The Great Route of Santa Maria (GR01SMA) and the Areia Branca (PR06SMA) walking trails allow crossing this protected area, which is a geosite of the Azores UNESCO Global Geopark.
Classifications: