Caldeirão PRC02COR
Altitude (Min / Max):
401m / 558m
&nbsp
How to get there
Follow the Regional Road towards the Caldeirão (about 8 kilometres), until you find the viewpoint.
Recommended gear
Appropriate footwear for walking, waterproof jacket, hat, sunscreen and water.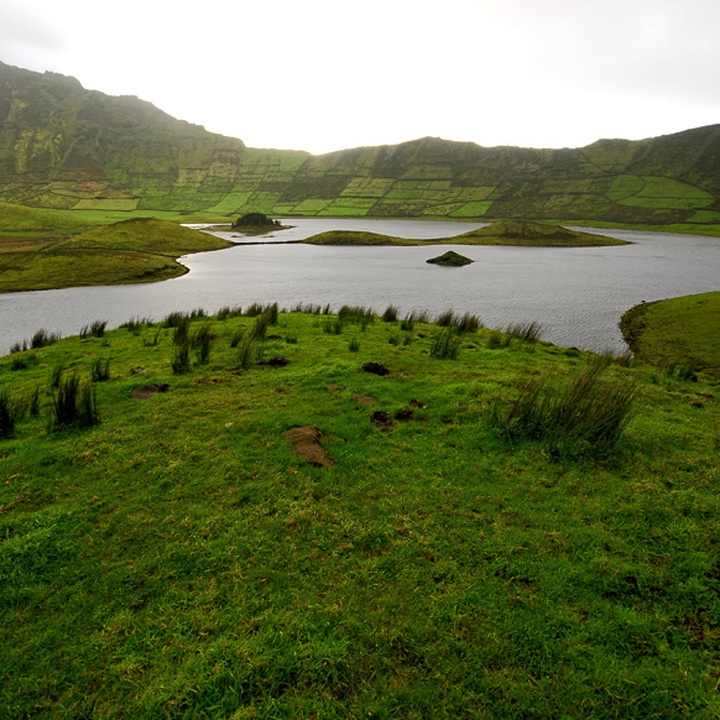 Gallery
This circular trail is inserted in the Costa e Caldeirão do Corvo Protected Area for the Management of Habitats or Species and in a Special Area of Conservation and a Special Protection Area within the Natura 2000 network.
It guides you through the interior of a collapse caldera, at the top of the central volcano and one of the main geosites of the island. Due to its altitudes that range from 400 metres to 560 metres, we advise you to do it on days of good weather and visibility. Along the trail, it is common the presence of bovine, equine and goat cattle that shall not be disturbed.
Begin the trail near the Caldeirão Viewpoint and enjoy the view towards the interior of the crater where, according to local culture, the lake and the few volcanic cones reminds a representation of the nine islands of the Azores. The road meanders through flora dominated by Sphagnum sp. leading to the caldera's interior. Arriving at a big rock, follow the path on the right to go around the crater (anticlockwise). At this stage of the trail, we advise you to have increased attention since the trail marks are smaller to resist the animals.
The caldera's interior is dominated by a wetlands system and two lagoons, nourished by the rain and by the water accumulated on the thick tufts of Sphagnum sp. (peatbogs) existing on the slopes facing north. It should be noted that the biggest and oldest peatbogs in the country are present on the islands of Corvo and Flores. Along the year, the lagoon level changes and can go up as far as the trail level. Therefore, choose the safest way, far from the margins.
Due to its hydrologic importance, the Caldeirão do Corvo was classified in 2008 as a Ramsar Site, under the Ramsar Convention of UNESCO. The features of this wet zones complex promote the presence of aquatic birds, offering shelter, feeding and nesting conditions, and constitute an important area of seasonal occurrence and permanence of various occasional and regular migratory bird species.
Resuming the trail, the road contours the lagoon passing by Poço da Velha and around a swampy area, on the left side, until reaching the big rock again. At this stage, you should go up the caldera to the viewpoint where you started the trail. Here, there is a connection to other points of the island through the Cara do Índio (PR01COR) walking trail.