News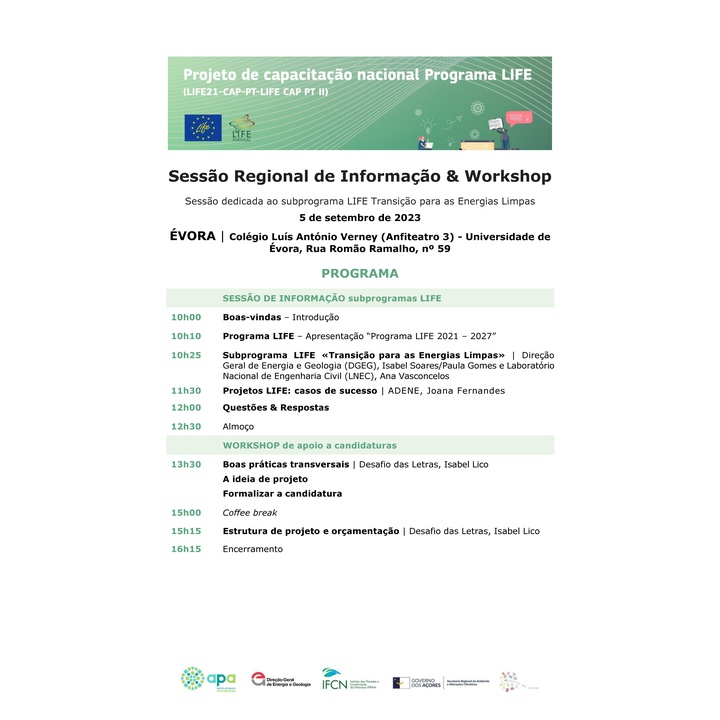 Session dedicated to the LIFE Clean Energy Transition sub-programme - 5 September, Évora
Aug. 21, 2023
The Directorate-General for Energy and Geology (DGEG) and the National Civil Engineering Laboratory (LNEC), in collaboration with the Portuguese Environment Agency (APA), will soon be promoting regional dissemination sessions and hands-on workshops under the Programme for the Environment and Climate Action (LIFE), dedicated to the LIFE Clean Energy Transition sub-programme.
The first of these sessions, which will be attended by project partners, will take place on 5 September, starting at 10 am, at the Luís António Verney School (Amphitheatre 3) of the University of Évora, located at Rua Romão Ramalho, no. 59.
This regional session will last one day and aims to support the preparation of applications with national partners to the LIFE-CET Programme, while also promoting the sharing of experiences from projects already funded in previous Calls.
The session will be in person and free of charge but subject to mandatory registration, which must be completed by 30 August 2023 using the form: bit.ly/452p9zy. Note: the number of people registered for the event is limited to the capacity of the room and one person per company/entity.