News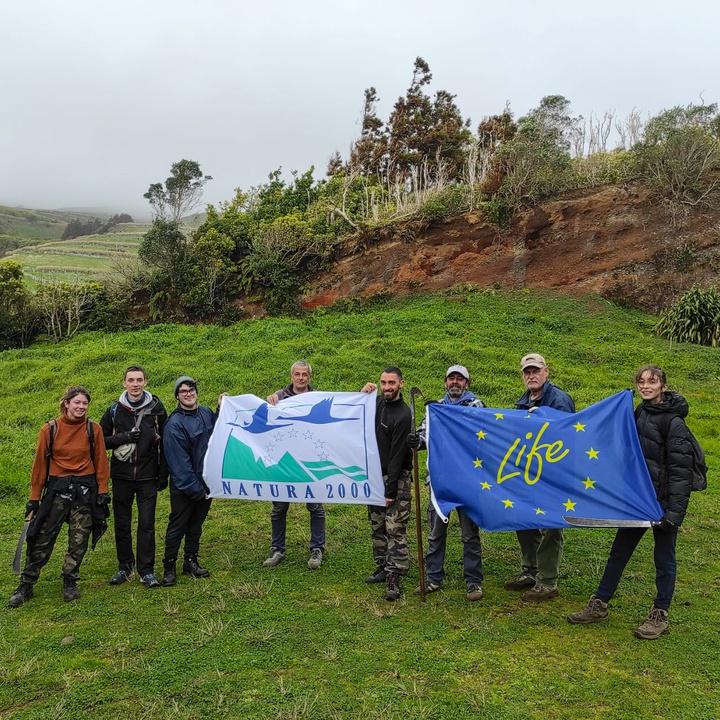 Four French students spent three weeks on Flores and Corvo in actions to remove invasive flora
May 4, 2023
Under Action E5 - Public engagement and volunteering program, four French students, Les Ami'go of the School TS Gestion et Protection de la Nature, spent three weeks on Corvo and Flores in several invasive flora removal actions, helping the LIFE IP AZORES NATURA project in its conservation actions.
Manon, Iris, Pierre and Mathieu visited, between 13 February and 3 March, the Western Group of the Azores archipelago, integrating themselves into the project's actions as part of a volunteering internship.
Thus, and throughout their stay, several invasive species removal actions were promoted under the LIFE IP AZORES NATURA project and in collaboration with the Flores and Corvo Environment and Climate Change Services, having removed a volume of 5 m³ of invasive species on Flores and 1400 kg on Corvo, consisting of about 1.5 ha of intervened areas.
The main species removed in these three weeks of voluntary work were: Plecostachys serpyllifolia, Bugweed (Solanum mauritianum), Drosanthenum floribundum, Kahili Ginger (Hedychium gardnerianum) and Hydrangea (Hydrangea macrophylla).
The LIFE IP AZORES NATURA project is coordinated by the Regional Secretariat for the Envorinment and Climate Change. Find out more www.lifeazoresnatura.eu/en/.