News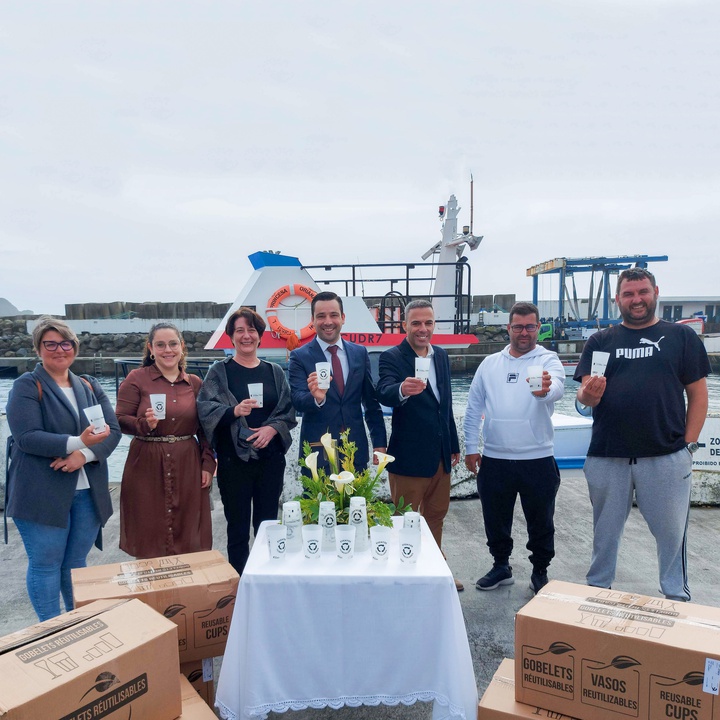 Regional Secretariat for Environment and Climate Change promotes "Eventos + Circulares" campaign
March 6, 2023
The Regional Secretariat for the Environment and Climate Change will deliver around 90 thousand reusable cups to organisations of events held in the Autonomous Region of the Azores, aiming at replacing single-use cups, as part of the "Eventos + Circulares" campaign, integrated in the Regional Circular Economy Roadmap.
Symbolically marking this initiative, Alonso Miguel met today with the Committee of the Santo António do Porto de São Mateus da Calheta Festivities on the island of Terceira, where he handed over the first three thousand cups, stating that "with this campaign, the aim was to promote the prevention of waste production, to contribute to more circular and sustainable events and to make participants aware of the importance of eliminating single-use cups".
"During November 2022, 74 applications were received under this Campaign from eight islands in the Region, 22 from São Miguel, 16 from Terceira, 12 from Pico, 12 from São Jorge, five from Faial, three from Flores, three from Santa Maria and one from Graciosa. Of the applications received, 29 were submitted by cultural and recreational associations, 21 by organised groups (youth associations, marches and clubs), 18 by festival committees and six by other associations or social solidarity institutions".
Alonso Miguel added that "89,993 cups were allocated, distributed by all eligible applications, of which 950 to be delivered on Flores, 1,050 on Faial, 2,885 on Santa Maria, 4,350 on Graciosa, 15,600 on Pico, 19,280 on São Jorge, 19,750 on Terceira and 26,128 on São Miguel, an investment of about €20,000".
"This is an action provided for in the Regional Circular Economy Roadmap, which contemplates a set of actions to be implemented in 2022 and 2023, with a view to increasing the circularity of the regional economy, under the PO Açores 2020, funded by FEDER, REACT-EU programme: Green Economy Project - Promotion of measures and investment support for circular economy elements of the Azores," the governor concluded.