News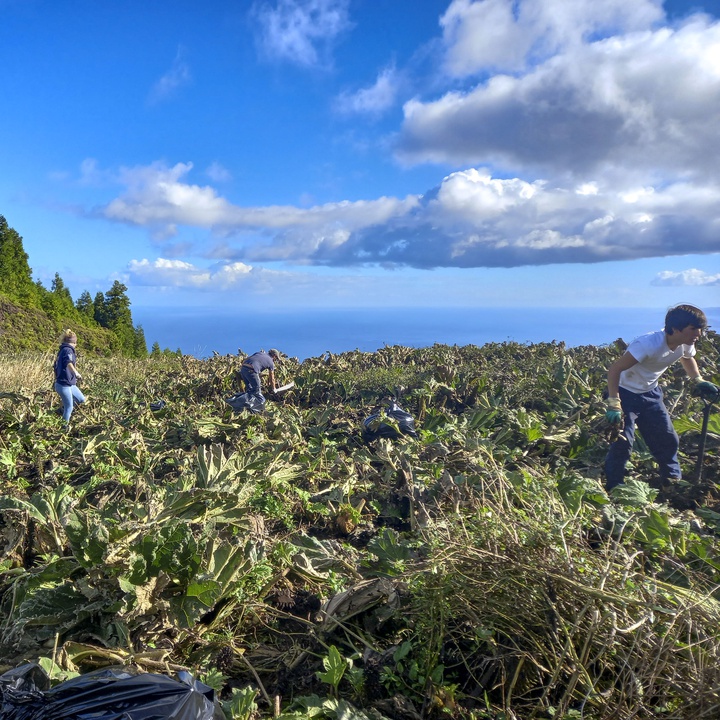 LIFE IP AZORES NATURA takes part in the removal of invasive flora on São Miguel
Nov. 24, 2022
In the end of October, a volunteering activity took place to remove invasive flora in Pico do Carvão, Sete Cidades, São Miguel island. This activity was promoted by the University of the Azores in partnership with the LIFE IP AZORES NATURA project and the São Miguel Environment and Climate Change Service, with the participation of 14 students from the Erasmus programme.
During the activity, about 6000 kg of biomass was removed, mainly consisting of Chilean Rhubarb (Gunnera tinctoria), an invasive plant species with high reproductive capacity.
In order to make the most of the work achieved by the student team, the planting of native species in this location is being planned, thus promoting the recovery of the area by occupying the space freed up by removing this invasive species.
This year, on the island of São Miguel, and as part of the LIFE IP AZORES NATURA project, several volunteer activities were organised in which it was possible to remove large quantities of invasive alien species, thus contributing to the recovery of threatened habitat on this island and improving the conservation status of endemic flora.
The LIFE IP AZORES NATURA project is coordinated by the Regional Secretariat for the Environment and Climate Change. Find out more at www.lifeazoresnatura.eu/en/.