News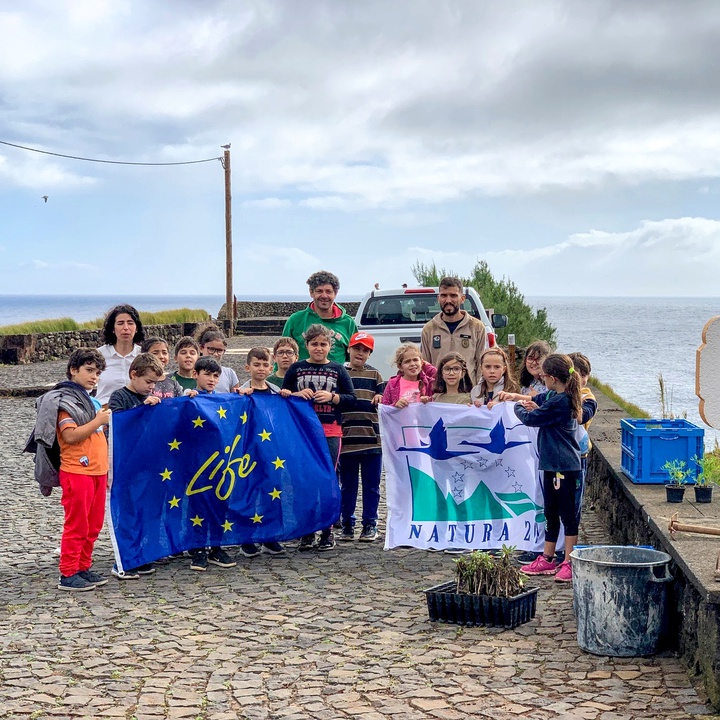 Ecological restoration action in the Topo Intervention Area with students of the local school
Nov. 14, 2022
Last week, the Pontinha do Topo intervention area was the target of an ecological restoration action of the Vidalia (Azorina vidalii) population, more specifically, next to the access ramp to the Pontinha bathing area, in a zone previously covered by invasive alien species, such as the Carpobrotus edulis.
Sixteen students from the Escola Básica Integrada da Vila do Topo participated in the actions. They were curious and interested in contributing to preserving an important part of the natural heritage that also belongs to them.
Their curiosity grew when they used the Biodiversity4all app (https://www.lifevidalia.eu/biodiversity4all/) to identify the flora species of the surrounding area that are part of the Vidalia habitat.
The session gave the students of this community the opportunity to learn more about the LIFE VIDALIA project, coordinated by the Regional Secretariat for the Environment and Climate Change, its target and companion species, as well as the severe threat of invasive alien species to the maintenance of the endemic biodiversity of the Azores.
For the restoration action to be possible, the Regional Secretariat for the Environment and Climate Change, with the voluntary partnership of the Topo Parish Council, carried out previously an invasive species removal.
The Topo Intervention Area is one of the five areas on São Jorge island in which LIFE VIDALIA works to preserve native coastal ecosystems. Curiously, it is the only intervention area on the island that is not on a fajã. The conservation work of LIFE VIDALIA on São Jorge can also be observed in Fajã de Santo Cristo, Fajã dos Cubres, Fajã das Pontas and Fajã da Ribeira da Areia.
During the session, the students found a Cory's Shearwater, which allowed them to add another noble mission to their day: the rescue and release of the bird.
Find out more about the project on www.lifevidalia.eu/en/.