News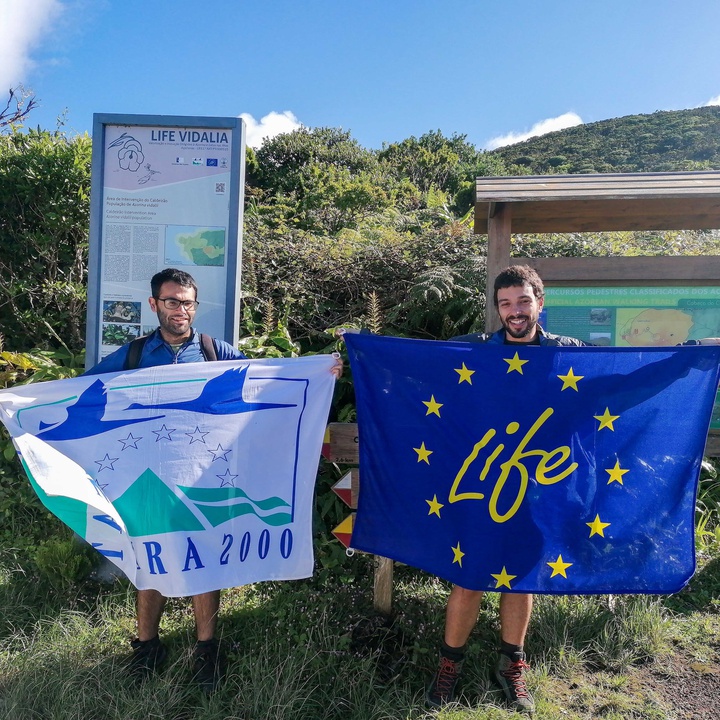 LIFE VIDALIA supports a doctorate dedicated to the study of Vidalia and Azorean Lotus
Oct. 26, 2022
The LIFE VIDALIA project received, on 18 October, students from a doctorate of the University of the Azores visiting the island of Faial to collect information and biological material from the populations of Vidalia (Azorina vidalii) existing on the island.
The field team of the LIFE VIDALIA, a project coordinated by the Regional Secretariat for the Environment and Climate Change, accompanied the students' visit to the Caldeirão do Cabeço Verde intervention area, where the most unusual and inaccessible of the four Vidalia's populations on the island occurs. The students collected information at the morphological level and samples from several Vidalia plants for later laboratory study. On the occasion, the result of the work carried out by LIFE VIDALIA in that location was also presented, namely the population restoration that allowed an increase in the number of vidália from 30, in 2018, to more than 200 specimens, currently.
This research is being conducted as part of a doctorate in Biology from the University of the Azores to address, among other issues, the reproductive biology, ecology and phenology of the various Vidalia (Azorina vidalii) and Azorean Lotus (Lotus azoricus) populations throughout the Archipelago. The results of this study may help to determine morphological and phenological variations between the various populations of each of these species within each island and throughout the Archipelago, representing a real contribution to the conservation of the two target species of the project.
Find out more about LIFE VIDALIA in www.lifevidalia.eu/en/.