News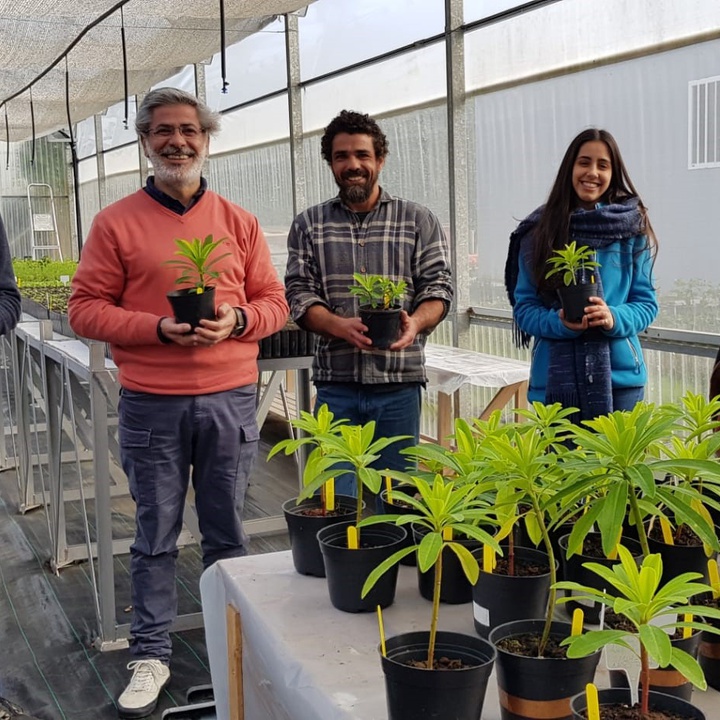 Azores Seed Bank: Another step towards a better future
Feb. 26, 2021
The Azores Seed Bank, whose main objective is the conservation of endemic and native species of the Archipelago, has, over the last few years, carried out a work of collecting, conserving, germinating and propagating seeds of the subspecies 𝘌𝘶𝘱𝘩𝘰𝘳𝘣𝘪𝘢 𝘴𝘵𝘺𝘨𝘪𝘢𝘯𝘢 subsp. 𝘴𝘢𝘯𝘵𝘢𝘮𝘢𝘳𝘪𝘢𝘦, classified as Critically Endangered by the International Union for Conservation of Nature (IUCN).
This endemic Santa Maria plant has less than a dozen individuals in the wild and, to avoid its extinction, the Santa Maria Nature Park team harvested its seeds and sent them to the Azores Seed Bank, based at the Faial Botanic Garden, for conservation of some and propagation of the others, in order to reinforce the original population.
This propagation process started with germination tests with the optimum conditions previously tested in the subspecies 𝘌𝘶𝘱𝘩𝘰𝘳𝘣𝘪𝘢 𝘴𝘵𝘺𝘨𝘪𝘢𝘯𝘢 subsp. 𝘴𝘵𝘺𝘨𝘪𝘢𝘯𝘢 and achieved a 74% success rate. Subsequently, the germinated plants were transferred to the Rare Plant Nursery of the Faial Botanic Garden where they settled and hardened, being accompanied, weekly, by the teams of the Seed Bank and the Nursery, in order to guarantee a quick response to their needs and, consequently, healthy growth.
As a result of this work, on February 8, about 35 individuals from 𝘌𝘶𝘱𝘩𝘰𝘳𝘣𝘪𝘢 were sent to Santa Maria, received by the Nature Park team, to be planted in their natural habitat. It is also planned to send more individuals in the coming months.
The conservation of endemic species in the Azores is one of the fundamental tools in the preservation of Azorean biodiversity, namely in ecosystems and natural habitats, thus contributing to the longevity of fauna and flora species.
In this sense, the Azores Seed Bank acts as a safe deposit that guarantees the safeguarding of most plant species, maintaining a viable collection of seeds, through controlled laboratory conditions, namely absence of humidity and negative temperatures.
Photo: Elements of the teams from the Seed Bank and the Rare Plant Nursery of the Faial Botanic Garden, who were involved in the propagation of 𝘌𝘶𝘱𝘩𝘰𝘳𝘣𝘪𝘢 𝘴𝘵𝘺𝘨𝘪𝘢𝘯𝘢 subsp. 𝘴𝘢𝘯𝘵𝘢𝘮𝘢𝘳𝘪𝘢𝘦.
Author: Azores Seed Bank