News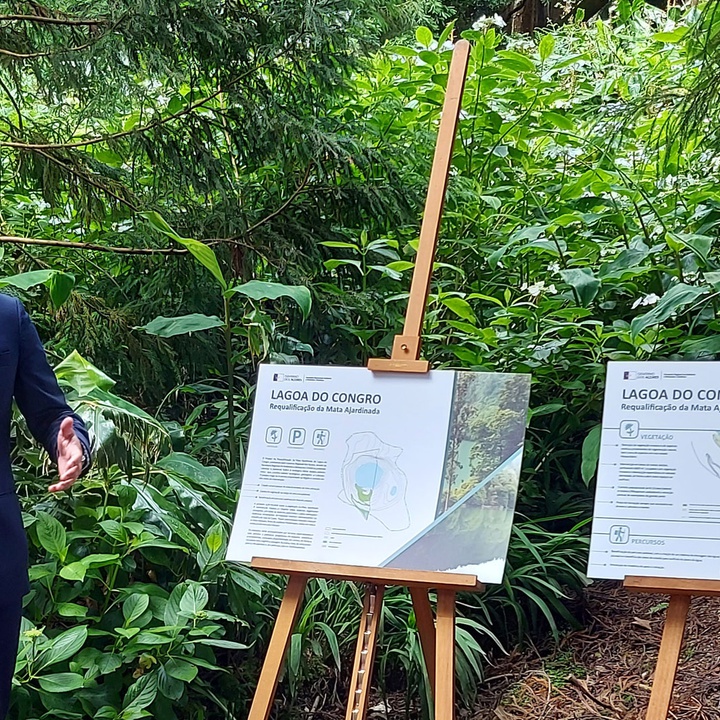 Azorean Government presents redevelopment project of the Lagoa do Congro Landscaped Forest
July 13, 2022
The Regional Secretary for the Environment and Climate Change, Alonso Miguel, presented yesterday the project for the requalification of the Lagoa do Congro Landscaped Forest, which aims to enhance the recreational and environmental potential of that unique outdoor space, reconciling ecological, geological and cultural values.
According to Alonso Miguel, "this requalification is based on three distinct components. The first intervention will focus on the vegetation of the Landscaped Forest, with the control of invasive species and planting of endemic and native species, and with actions to protect specimens of ornamental species, once introduced by José do Canto".
"Still during this phase, we will remove trees if they are in a bad phytosanitary state or at risk of falling, and that may endanger the safety of visitors," he stressed.
The governor also clarified that in this intervention "we will only use manual and motor-manual methods, and the work will be monitored by specialised technicians, with the progressive planting of endemic species being planned, in order to recover this magnificent Azorean landscape, full of symbolism for the people of São Miguel and, in particular, of Vila Franca.
To plan this intervention, we requested site surveys from the Regional Civil Engineering Laboratory and the Regional Directorate of Forestry Resources to assess the geological, morphological and hydrological conditions of the area in question, allowing the execution of the project presented.
In a second action, "the creation of a free car park is planned, integrated in the forest of Japanese Cedar (Cryptomeria japonica), with the least possible impact on the landscape. This park will have the capacity for 30 light vehicles, two for the transport of people with reduced mobility and six bicycles", said Alonso Miguel.
The Regional Secretary said that "these two interventions represent an investment of about 140 thousand euros, and should be completed by theend of this year".
The governor also said that a "third intervention to improve the footpath, through the installation of a rainwater drainage network, improvement of the leisure areas and installation of signage to support visitation is in the project completion phase".
In addition to the requalification of the Forest, according to Alonso Miguel, it is also intended, in conjunction with IROA, S.A., to develop a project to regularize and improve the drainage of the agricultural access path to Lagoa do Congro.