News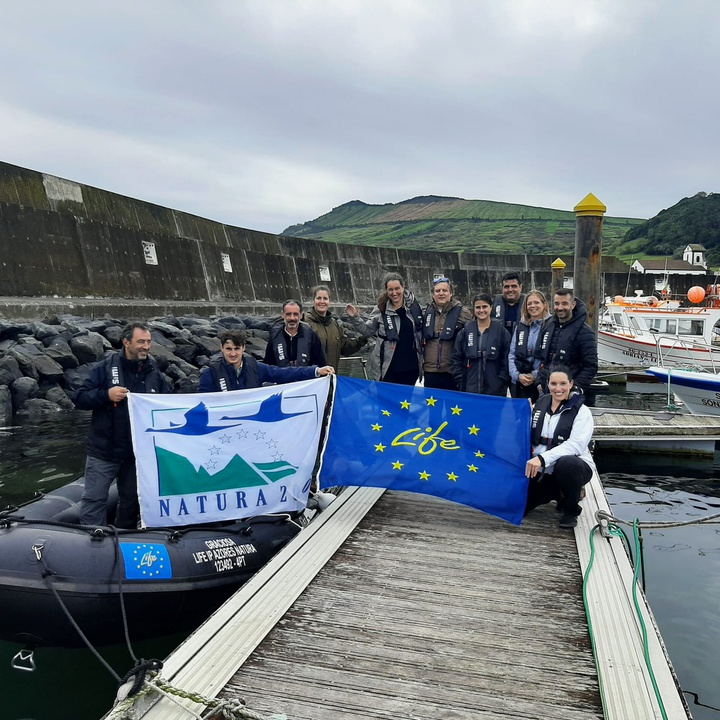 Regional Secretariat for the Environment and Climate Change with positive results on the evaluation of the LIFE IP AZORES NATURA project
Nov. 3, 2021
Within the scope of the 4th LIFE IP AZORES NATURA project monitoring visit, a group of European Union's supervisors travelled this week to the islands of São Miguel and Graciosa to evaluate the project's progress.
The visit counted with the presence of representatives of the Regional Secretariat for the Environment and Climate Change and with the associated beneficiaries: Regional Directorate for Sea Affairs, Regional Directorate for the Environment and Climate Change, Portuguese Society for the Study of Birds and La Palma World Biosphere Reserve. Divided into two stages, the visit started with a meeting with all the beneficiaries and continued with a field trip to the Serra da Tronqueira on São Miguel and to Ilhéu da Praia (islet) on Graciosa, places where the project develops conservation works.
The supervisors were briefed on the results achieved so far, namely the operational planning and regional strategy of the invasive species, field works carried out, environmental awareness activities, among other mandatory actions. The goals already reached were highlighted, and the necessities and preparation of phase II of the project were debated.
The projects developed by this Regional Secretariat under the LIFE Programme are a significant tool in the fight against climate change and the loss of biodiversity, as well as in supporting the transition to a more environmentally efficient economy.
With the financial support of the LIFE Programme of the European Union.
RN 2000