News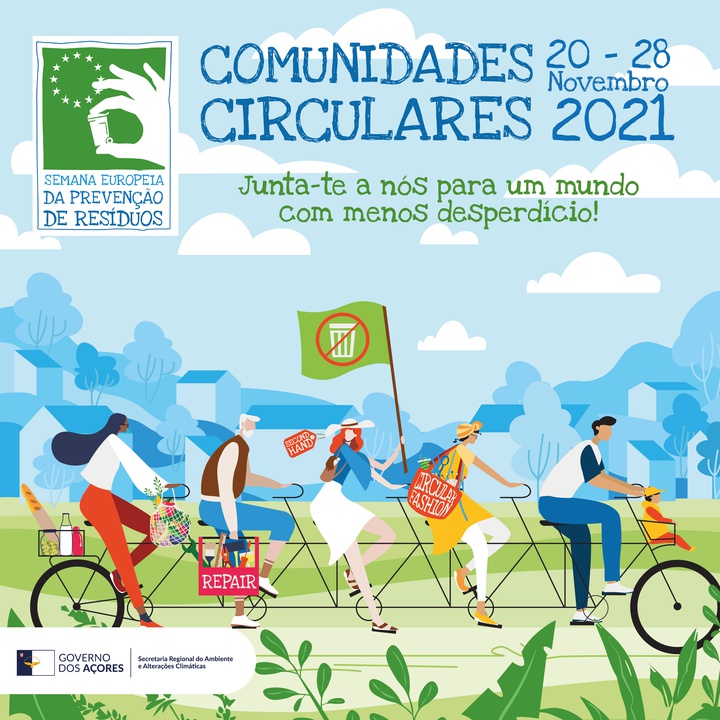 Registrations for the 13th European Week for Waste Reduction and the 12th Azores' Waste Week open until 12 November
Sept. 3, 2021
The Regional Secretariat for the Environment and Climate Change promotes, between 20 and 28 November 2021, the 13th European Week for Waste Reduction, which includes the 12th Azores' Waste Week, intending to integrate actions organized by public and private entities on all the islands of the Archipelago.
This year, the European Week for Waste Reduction's theme is "Circular Communities – Jump on board for a less-waste world!" and challenges us to act together to mould circular communities dedicated to preventing the production of waste.
The individual citizens and the community must act together to promote a circular economy and reach sustainable development, keeping a balance between the environmental, social and economic areas.
Any entity can promote actions and activities of awareness and information on the theme by registering as an "action proponent" of the Waste Week until 12 November, through the form available on the registration platform of the European website www.ewwr.eu.
Also can apply the entities that fit in the categories Public Administration/Authorities, Association/NGO, Business/Industry, Educational Establishment, Individual Citizen, or others (for example Hospital, Elderly People' Home, Cultural Institutions, etc.).
The European Week for Waste Reduction is an international initiative that intends to implement, for a week, awareness actions on sustainable management of resources and waste, aimed at changing the behaviour of European citizens in relation to their consumption patterns and habits.
For any additional information, the interested parties can contact the Regional Secretariat for the Environment and Climate Change, through the phone number (+351) 292 207 300 or the email semanaresiduos@azores.gov.pt, or consult the information available at http://www.azores.gov.pt/Gra/srrn-residuos/menus/secundario/Semana+dos+Residuos/.