Events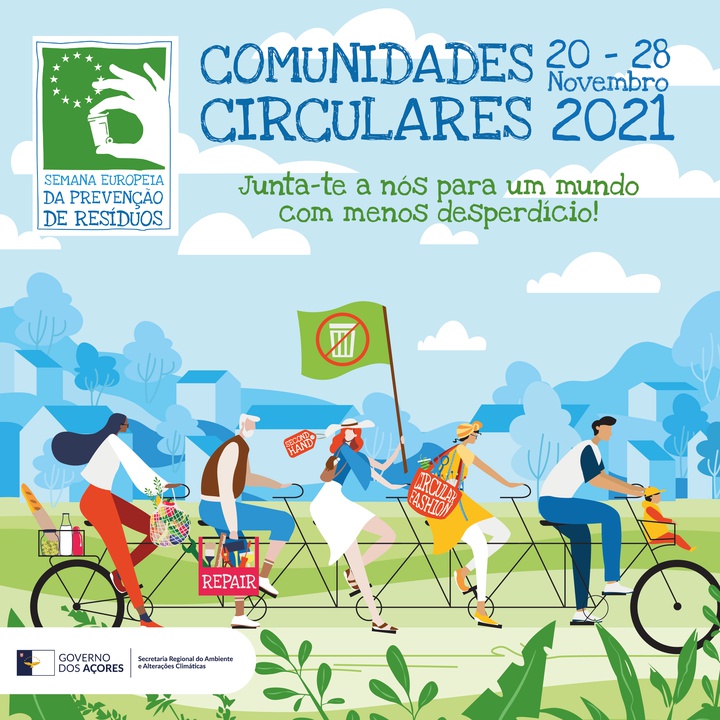 12ᵗʰ Azores Waste Week
Nov. 20, 2021 - Nov. 27, 2021
Between 20 and 28 November, the Regional Secretariat for the Environment and Climate Change promotes a set of activities with the motto "The right to repair and value waste!" within the 12ᵗʰ Azores Waste Week.
Integrated into the 13ᵗʰ European Week for Waste Reduction, an international initiative that intends to implement awareness-raising actions on sustainable management of resources and waste, we aim to raise awareness and alert the society's behaviour regarding its consumption pattern and habits.
The theme of this 13ᵗʰ edition is "Circular Communities – Jump on board for a less-waste world!".
In this note, our set of activities includes the school community with the actions "The magic of recycling: from used cooking oil to soap" and "The magic of recycling: from plastic to plants and from oil to candles" on Corvo, "From beeswax, they make candles were made" on Pico, "Water Quality vs Plastic Reduction" on São Jorge, "Textile waste circulating" on Graciosa, "Biowaste is not trash!" on São Miguel e and "Today there are no leftovers!" on Santa Maria. There will also be carried out visits to the Graciosa Waste Centre for the island's public services' workers.
For the general public, we present the following events:
Flores – Nothing is lost, everything is transformed https://bit.ly/3qK4uPp
Faial – Cloth dolls - Do you remember? https://bit.ly/3wTu6Kw
São Jorge – Mercearia Milhafre https://bit.ly/3HverWG
Terceira – Showcooking – Too good to waste https://bit.ly/3qLYbLh
Santa Maria – With a full bag! https://bit.ly/3FqZAuA
Join us!